| | |
| --- | --- |
| ffd_listing_title | 4 bedroom House near Warwick Avenue |
| ffd_unique_id | |
| ffd_mls_id | |
| ffd_salesforce_id | a0E6g00000A4D8CEAV |
| ffd_address_pb | Elizabeth Close, Warwick Avenue, W9 |
| address | Elizabeth Close, Warwick Avenue, W9 |
| baths | 3 |
| beds | 4 |
| ffd_city_pb | Greater London |
| ffd_colistingagent_pb | |
| ffd_colistingagentemail_pb | |
| ffd_colistingagentmlsid | |
| ffd_colistingagentname | |
| ffd_colistingofficemlsid | |
| ffd_colistingofficename_pb | |
| ffd_country_pb | United Kingdom |
| ffd_createddate | 2023-04-21T00:31:18.000+0000 |
| about | Tucked away in a quiet gated close in the heart of Little Venice is this stylish and very well presented townhouse that benefits from off-street parking. The property boasts a contemporary finish over four floors. Accommodation comprises: spacious eat in kitchen and separate reception room complete with west facing balcony, four double bedrooms, one with its own balcony , three bathrooms, guest cloakroom and large utility room. Elizabeth Close is a gated development of beautiful houses in the heart of Little Venice. The property is less than 0.1 miles from Warwick Avenue underground station Bakerloo Line which provides access to Paddington Railway Station, Heathrow Express and West End. The picturesque Regents Canal, cafes and amenities of Clifton Road are also within 0.1 miles of the property |
| ffd_displayaddress | |
| floor | |
| ffd_halfbathrooms_pb | 0 |
| ffd_hide_address_on_site | |
| ffd_key_words | Greater London;United Kingdom;City;Greater London, England;Westminster England;City Greater London;City Westminster;Westminster;Warwick Avenue Greater London;UK |
| ffd_lastmodifieddate | 2023-05-28T00:29:07.000+0000 |
| lat | 51.525087 |
| ffd_listofficemlsid | |
| ffd_listofficename | |
| ffd_listingagent_pb | 0036g00002ALrRKAA1 |
| ffd_listing_agent_email | |
| ffd_listing_agent_firstname | |
| ffd_listing_agent_lastname | |
| ffd_listingagentmlsid | |
| ffd_listingagentname | |
| ffd_listing_agent_website | https://www.chestertons.co.uk/en-gb/property-to-buy/gb/warwick+avenue/ven230037 |
| price | 2670085 |
| ffd_listingtype | Sale |
| location | Greater London, England, United Kingdom |
| lng | -0.179044 |
| sq_feet | 0 |
| ffd_non_member_paid | |
| ffd_other_currency_amount | 2150000 |
| ffd_other_currency_type | GBP |
| ffd_ownerid | 0056g000006m3dAAAQ |
| ffd_pool_pb | |
| ffd_price_upon_request | |
| building_type | Townhouse |
| ffd_id | a0E6g00000A4D8CEAV |
| ffd_totalarea_pb | 1860 |
| ffd_solddate | |
| ffd_soldprice | |
| ffd_state_pb | England |
| ffd_status | Active |
| ffd_threequarterbathrooms | 0 |
| ffd_unit_of_measure | Square Feet |
| ffd_brokerage_id | 0016g00002KskJEAAZ |
| year_built | |
| ffd_postalcode_pb | W9 1BN |
| pba__WebsiteId__c | 348589 |
| pba__Listing_Website__c | https://www.forbesglobalproperties.com/listings/4-bedroom-house-near-warwick-avenue-3 |
| Site_Post_Id__c | 348589 |
| ffd_media | a:11:{i:0;s:88:"https://images.chestertons.co.uk/assets/r/chips/che/VEN/23/VEN230037_12-JPG-l-1600-0.jpg";i:1;s:88:"https://images.chestertons.co.uk/assets/r/chips/che/VEN/23/VEN230037_14-JPG-l-1600-0.jpg";i:2;s:88:"https://images.chestertons.co.uk/assets/r/chips/che/VEN/23/VEN230037_07-JPG-l-1600-0.jpg";i:3;s:88:"https://images.chestertons.co.uk/assets/r/chips/che/VEN/23/VEN230037_04-JPG-l-1600-0.jpg";i:4;s:88:"https://images.chestertons.co.uk/assets/r/chips/che/VEN/23/VEN230037_11-JPG-l-1600-0.jpg";i:5;s:88:"https://images.chestertons.co.uk/assets/r/chips/che/VEN/23/VEN230037_17-JPG-l-1600-0.jpg";i:6;s:88:"https://images.chestertons.co.uk/assets/r/chips/che/VEN/23/VEN230037_05-JPG-l-1600-0.jpg";i:7;s:88:"https://images.chestertons.co.uk/assets/r/chips/che/VEN/23/VEN230037_08-JPG-l-1600-0.jpg";i:8;s:88:"https://images.chestertons.co.uk/assets/r/chips/che/VEN/23/VEN230037_06-JPG-l-1600-0.jpg";i:9;s:88:"https://images.chestertons.co.uk/assets/r/chips/che/VEN/23/VEN230037_01-PNG-l-1600-0.jpg";i:10;s:88:"https://images.chestertons.co.uk/assets/r/chips/che/VEN/23/VEN230037_18-JPG-p-1600-0.jpg";} |
| _thumbnail_id | 348590 |
| ffd_featured_image | https://images.chestertons.co.uk/assets/r/chips/che/VEN/23/VEN230037_12-JPG-l-1600-0.jpg |
| agents | a:1:{i:0;s:6:"313251";} |
| _wp_old_date | 2023-04-22 |
| ffd_record_is_deleted | |
| featured_images | 348590 |
| listing_images | a:11:{i:0;s:6:"348590";i:1;s:6:"348591";i:2;s:6:"348592";i:3;s:6:"348593";i:4;s:6:"348594";i:5;s:6:"348595";i:6;s:6:"348596";i:7;s:6:"348597";i:8;s:6:"348598";i:9;s:6:"348599";i:10;s:6:"348600";} |
| api_external_id | VEN230037 |
| post_member_id | 312441 |
| post_agent_id | 313251 |
| _sbi_oembed_done_checking | 1 |
| no_api_update | 1 |
4 bedroom House near Warwick Avenue
GBP 2,150,000
(US $2,670,085)
Elizabeth Close, Warwick Avenue, W9
Greater London, England, United Kingdom
Status: Active
Tucked away in a quiet gated close in the heart of Little Venice is this stylish and very well presented townhouse that benefits from off-street parking. The property boasts a contemporary finish over four floors.
Accommodation comprises: spacious eat in kitchen and separate reception room complete with west facing balcony, four double bedrooms, one with its own balcony , three bathrooms, guest cloakroom and large utility room.
Elizabeth Close is a gated development of beautiful houses in the heart of Little Venice. The property is less than 0.1 miles from Warwick Avenue underground station Bakerloo Line which provides access to Paddington Railway Station, Heathrow Express and West End. The picturesque Regents Canal, cafes and amenities of Clifton Road are also within 0.1 miles of the property
Properties You Might Also Like
GBP 1,850,000
(US $2,297,515)
Greater London, England, United Kingdom
3 bedroom in Warwick Avenue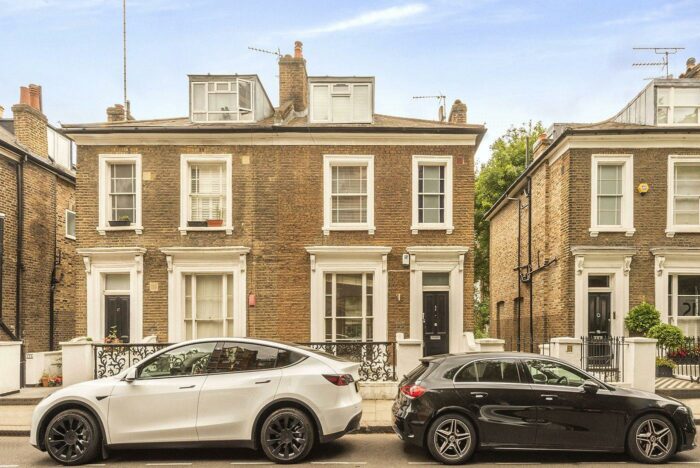 GBP 2,900,000
(US $3,601,510)
Greater London, England, United Kingdom
4 bedroom house near Warwick Avenue
This unique 4 Bedroom home with 3 Bathrooms is a prime example of the luxury real estate available in Greater London, England. You can visit our England search pages for more luxury real estate choices in Greater London.