| | |
| --- | --- |
| ffd_listing_title | 4 bedroom House in Barnsbury |
| ffd_unique_id | |
| ffd_mls_id | |
| ffd_salesforce_id | a0E6g00000A3wKDEAZ |
| ffd_address_pb | Cloudesley Square, Barnsbury, N1 |
| address | Cloudesley Square, Barnsbury, N1 |
| baths | 2 |
| beds | 4 |
| ffd_city_pb | Greater London |
| ffd_colistingagent_pb | |
| ffd_colistingagentemail_pb | |
| ffd_colistingagentmlsid | |
| ffd_colistingagentname | |
| ffd_colistingofficemlsid | |
| ffd_colistingofficename_pb | |
| ffd_country_pb | United Kingdom |
| ffd_createddate | 2023-02-11T10:57:25.000+0000 |
| about | A light filled and characterful, Grade II listed Georgian family home, set on one of Barnsbury's premier garden squares, ideally located for access to Upper Street & Angel Underground. Accommodation is well arranged and comprises; a grand entrance hallway, leading to the kitchen/dining space, complete with an original fireplace, coving and ornate sash windows that provide a sunny dual aspect, with a study and shower room housed at the rear, providing access to the secluded rear garden. There is an additional bedroom and kitchen on the lower level, benefitting from its own street entrance, making it ideal for a granny annex, which could easily be converted back into the original house. The impressive reception space occupies the front of the first floor, benefitting from floor to ceiling sash windows, ceiling rose and fireplace and enjoying serene views across the square onto the Church. There are two bedrooms and a bathroom situated behind. There is a large double bedroom with ample storage on the top floor, with the large family bathroom set behind. Cloudesley Square is a fabulous garden square in an idyllic location, situated in the heart of Barnsbury, retaining fantastic links to Upper Street and the international transport hub that is Kings Cross/ St Pancras International. The property affords superb access to the transport at Angel Underground (Northern Line) and Highbury & Islington Station (National Rail & Victoria Line) providing excellent links around London. The buzz of Upper Street is only a short walk away. The celebrated gastropubs the The Pig & Butcher, the Albion and the Drapers Arms can be found locally within Barnsbury, and the incredibly popular restaurant/café Sunday is situated just up the road. Supermarkets Waitrose and Sainsbury's are located at the Southern end of Liverpool Road, close to Angel. The Kings Cross regeneration/ development which includes Granary Square, new restaurants and shops, and a Waitrose, are within close proximity. |
| ffd_displayaddress | |
| floor | |
| ffd_halfbathrooms_pb | 0 |
| ffd_hide_address_on_site | |
| ffd_key_words | Greater London;United Kingdom;City;Greater London, England;Islington England;City Greater London;City Islington;Islington;UK |
| ffd_lastmodifieddate | 2023-03-23T00:11:16.000+0000 |
| lat | 51.537761 |
| ffd_listofficemlsid | |
| ffd_listofficename | |
| ffd_listingagent_pb | 0036g00002ALrTLAA1 |
| ffd_listing_agent_email | |
| ffd_listing_agent_firstname | |
| ffd_listing_agent_lastname | |
| ffd_listingagentmlsid | |
| ffd_listingagentname | |
| ffd_listing_agent_website | https://www.chestertons.co.uk/en-gb/property-to-buy/gb/street/cloudesley+square+n1/hea201318 |
| price | 2647567 |
| ffd_listingtype | Sale |
| location | Greater London, England, United Kingdom |
| lng | -0.108353 |
| sq_feet | 0 |
| ffd_non_member_paid | |
| ffd_other_currency_amount | 2500000 |
| ffd_other_currency_type | GBP |
| ffd_ownerid | 0056g000006m3dUAAQ |
| ffd_pool_pb | |
| ffd_price_upon_request | |
| building_type | Townhouse |
| ffd_id | a0E6g00000A3wKDEAZ |
| ffd_totalarea_pb | 0 |
| ffd_solddate | |
| ffd_soldprice | |
| ffd_state_pb | England |
| ffd_status | Active |
| ffd_threequarterbathrooms | 0 |
| ffd_unit_of_measure | Square Feet |
| ffd_brokerage_id | 0016g00002KskJEAAZ |
| year_built | 0 |
| ffd_postalcode_pb | N1 0HN |
| pba__WebsiteId__c | 315370 |
| pba__Listing_Website__c | https://www.forbesglobalproperties.com/listings/4-bedroom-house-in-barnsbury |
| Site_Post_Id__c | 315370 |
| ffd_media | a:28:{i:0;s:88:"https://images.chestertons.co.uk/assets/r/chips/che/HEA/20/HEA201318_25-JPG-l-1600-0.jpg";i:1;s:88:"https://images.chestertons.co.uk/assets/r/chips/che/HEA/20/HEA201318_04-JPG-l-1600-0.jpg";i:2;s:88:"https://images.chestertons.co.uk/assets/r/chips/che/HEA/20/HEA201318_28-JPG-l-1600-0.jpg";i:3;s:88:"https://images.chestertons.co.uk/assets/r/chips/che/HEA/20/HEA201318_11-JPG-l-1600-0.jpg";i:4;s:88:"https://images.chestertons.co.uk/assets/r/chips/che/HEA/20/HEA201318_16-JPG-l-1600-0.jpg";i:5;s:88:"https://images.chestertons.co.uk/assets/r/chips/che/HEA/20/HEA201318_19-JPG-l-1600-0.jpg";i:6;s:88:"https://images.chestertons.co.uk/assets/r/chips/che/HEA/20/HEA201318_23-JPG-l-1600-0.jpg";i:7;s:88:"https://images.chestertons.co.uk/assets/r/chips/che/HEA/20/HEA201318_20-JPG-l-1600-0.jpg";i:8;s:88:"https://images.chestertons.co.uk/assets/r/chips/che/HEA/20/HEA201318_07-JPG-l-1600-0.jpg";i:9;s:88:"https://images.chestertons.co.uk/assets/r/chips/che/HEA/20/HEA201318_05-JPG-l-1600-0.jpg";i:10;s:88:"https://images.chestertons.co.uk/assets/r/chips/che/HEA/20/HEA201318_06-JPG-l-1600-0.jpg";i:11;s:88:"https://images.chestertons.co.uk/assets/r/chips/che/HEA/20/HEA201318_15-JPG-l-1600-0.jpg";i:12;s:88:"https://images.chestertons.co.uk/assets/r/chips/che/HEA/20/HEA201318_17-JPG-l-1600-0.jpg";i:13;s:88:"https://images.chestertons.co.uk/assets/r/chips/che/HEA/20/HEA201318_21-JPG-l-1600-0.jpg";i:14;s:88:"https://images.chestertons.co.uk/assets/r/chips/che/HEA/20/HEA201318_08-JPG-l-1600-0.jpg";i:15;s:88:"https://images.chestertons.co.uk/assets/r/chips/che/HEA/20/HEA201318_09-JPG-l-1600-0.jpg";i:16;s:88:"https://images.chestertons.co.uk/assets/r/chips/che/HEA/20/HEA201318_30-JPG-l-1600-0.jpg";i:17;s:88:"https://images.chestertons.co.uk/assets/r/chips/che/HEA/20/HEA201318_10-JPG-l-1600-0.jpg";i:18;s:88:"https://images.chestertons.co.uk/assets/r/chips/che/HEA/20/HEA201318_14-JPG-l-1600-0.jpg";i:19;s:88:"https://images.chestertons.co.uk/assets/r/chips/che/HEA/20/HEA201318_18-JPG-l-1600-0.jpg";i:20;s:88:"https://images.chestertons.co.uk/assets/r/chips/che/HEA/20/HEA201318_29-JPG-l-1600-0.jpg";i:21;s:88:"https://images.chestertons.co.uk/assets/r/chips/che/HEA/20/HEA201318_03-JPG-l-1600-0.jpg";i:22;s:88:"https://images.chestertons.co.uk/assets/r/chips/che/HEA/20/HEA201318_24-JPG-l-1600-0.jpg";i:23;s:88:"https://images.chestertons.co.uk/assets/r/chips/che/HEA/20/HEA201318_12-JPG-l-1600-0.jpg";i:24;s:88:"https://images.chestertons.co.uk/assets/r/chips/che/HEA/20/HEA201318_13-JPG-l-1600-0.jpg";i:25;s:88:"https://images.chestertons.co.uk/assets/r/chips/che/HEA/20/HEA201318_26-JPG-l-1600-0.jpg";i:26;s:88:"https://images.chestertons.co.uk/assets/r/chips/che/HEA/20/HEA201318_27-JPG-p-1600-0.jpg";i:27;s:88:"https://images.chestertons.co.uk/assets/r/chips/che/HEA/20/HEA201318_31-JPG-l-1600-0.jpg";} |
| _thumbnail_id | 315371 |
| ffd_featured_image | https://images.chestertons.co.uk/assets/r/chips/che/HEA/20/HEA201318_25-JPG-l-1600-0.jpg |
| agents | a:1:{i:0;s:6:"313254";} |
| _wp_old_date | 2023-02-14 |
| ffd_record_is_deleted | |
| _wp_old_slug | 4-bedroom-house-in-cloudesley-square |
| featured_images | 315371 |
| primary_media_0_image | 315371 |
| _primary_media_0_image | field_5f988067abcc4 |
| primary_media_0_video | |
| _primary_media_0_video | field_5f98807dabcc5 |
| primary_media_1_image | 315372 |
| _primary_media_1_image | field_5f988067abcc4 |
| primary_media_1_video | |
| _primary_media_1_video | field_5f98807dabcc5 |
| primary_media_2_image | 315373 |
| _primary_media_2_image | field_5f988067abcc4 |
| primary_media_2_video | |
| _primary_media_2_video | field_5f98807dabcc5 |
| primary_media | 3 |
| _primary_media | field_5f98805cabcc3 |
| secondary_media_0_image | 315371 |
| _secondary_media_0_image | field_5f988119a39fd |
| secondary_media_0_video | |
| _secondary_media_0_video | field_5f988119a39fe |
| secondary_media_1_image | 315372 |
| _secondary_media_1_image | field_5f988119a39fd |
| secondary_media_1_video | |
| _secondary_media_1_video | field_5f988119a39fe |
| secondary_media_2_image | 315373 |
| _secondary_media_2_image | field_5f988119a39fd |
| secondary_media_2_video | |
| _secondary_media_2_video | field_5f988119a39fe |
| secondary_media_3_image | 315374 |
| _secondary_media_3_image | field_5f988119a39fd |
| secondary_media_3_video | |
| _secondary_media_3_video | field_5f988119a39fe |
| secondary_media_4_image | 315375 |
| _secondary_media_4_image | field_5f988119a39fd |
| secondary_media_4_video | |
| _secondary_media_4_video | field_5f988119a39fe |
| secondary_media_5_image | 315376 |
| _secondary_media_5_image | field_5f988119a39fd |
| secondary_media_5_video | |
| _secondary_media_5_video | field_5f988119a39fe |
| secondary_media_6_image | 315377 |
| _secondary_media_6_image | field_5f988119a39fd |
| secondary_media_6_video | |
| _secondary_media_6_video | field_5f988119a39fe |
| secondary_media_7_image | 315378 |
| _secondary_media_7_image | field_5f988119a39fd |
| secondary_media_7_video | |
| _secondary_media_7_video | field_5f988119a39fe |
| secondary_media_8_image | 315379 |
| _secondary_media_8_image | field_5f988119a39fd |
| secondary_media_8_video | |
| _secondary_media_8_video | field_5f988119a39fe |
| secondary_media_9_image | 315380 |
| _secondary_media_9_image | field_5f988119a39fd |
| secondary_media_9_video | |
| _secondary_media_9_video | field_5f988119a39fe |
| secondary_media_10_image | 315381 |
| _secondary_media_10_image | field_5f988119a39fd |
| secondary_media_10_video | |
| _secondary_media_10_video | field_5f988119a39fe |
| secondary_media_11_image | 315382 |
| _secondary_media_11_image | field_5f988119a39fd |
| secondary_media_11_video | |
| _secondary_media_11_video | field_5f988119a39fe |
| secondary_media_12_image | 315383 |
| _secondary_media_12_image | field_5f988119a39fd |
| secondary_media_12_video | |
| _secondary_media_12_video | field_5f988119a39fe |
| secondary_media_13_image | 315384 |
| _secondary_media_13_image | field_5f988119a39fd |
| secondary_media_13_video | |
| _secondary_media_13_video | field_5f988119a39fe |
| secondary_media_14_image | 315385 |
| _secondary_media_14_image | field_5f988119a39fd |
| secondary_media_14_video | |
| _secondary_media_14_video | field_5f988119a39fe |
| secondary_media_15_image | 315386 |
| _secondary_media_15_image | field_5f988119a39fd |
| secondary_media_15_video | |
| _secondary_media_15_video | field_5f988119a39fe |
| secondary_media_16_image | 315387 |
| _secondary_media_16_image | field_5f988119a39fd |
| secondary_media_16_video | |
| _secondary_media_16_video | field_5f988119a39fe |
| secondary_media_17_image | 315388 |
| _secondary_media_17_image | field_5f988119a39fd |
| secondary_media_17_video | |
| _secondary_media_17_video | field_5f988119a39fe |
| secondary_media_18_image | 315389 |
| _secondary_media_18_image | field_5f988119a39fd |
| secondary_media_18_video | |
| _secondary_media_18_video | field_5f988119a39fe |
| secondary_media_19_image | 315390 |
| _secondary_media_19_image | field_5f988119a39fd |
| secondary_media_19_video | |
| _secondary_media_19_video | field_5f988119a39fe |
| secondary_media_20_image | 315391 |
| _secondary_media_20_image | field_5f988119a39fd |
| secondary_media_20_video | |
| _secondary_media_20_video | field_5f988119a39fe |
| secondary_media_21_image | 315392 |
| _secondary_media_21_image | field_5f988119a39fd |
| secondary_media_21_video | |
| _secondary_media_21_video | field_5f988119a39fe |
| secondary_media_22_image | 315393 |
| _secondary_media_22_image | field_5f988119a39fd |
| secondary_media_22_video | |
| _secondary_media_22_video | field_5f988119a39fe |
| secondary_media_23_image | 315394 |
| _secondary_media_23_image | field_5f988119a39fd |
| secondary_media_23_video | |
| _secondary_media_23_video | field_5f988119a39fe |
| secondary_media_24_image | 315395 |
| _secondary_media_24_image | field_5f988119a39fd |
| secondary_media_24_video | |
| _secondary_media_24_video | field_5f988119a39fe |
| secondary_media_25_image | 315396 |
| _secondary_media_25_image | field_5f988119a39fd |
| secondary_media_25_video | |
| _secondary_media_25_video | field_5f988119a39fe |
| secondary_media_26_image | 315397 |
| _secondary_media_26_image | field_5f988119a39fd |
| secondary_media_26_video | |
| _secondary_media_26_video | field_5f988119a39fe |
| secondary_media_27_image | 315398 |
| _secondary_media_27_image | field_5f988119a39fd |
| secondary_media_27_video | |
| _secondary_media_27_video | field_5f988119a39fe |
| secondary_media | 28 |
| _secondary_media | field_5f988119a39fc |
4 bedroom House in Barnsbury
GBP 2,500,000
(US $2,647,567)
Cloudesley Square, Barnsbury, N1
Greater London, England, United Kingdom
Status: Active
A light filled and characterful, Grade II listed Georgian family home, set on one of Barnsbury's premier garden squares, ideally located for access to Upper Street & Angel Underground. Accommodation is well arranged and comprises; a grand entrance hallway, leading to the kitchen/dining space, complete with an original fireplace, coving and ornate sash windows that provide a sunny dual aspect, with a study and shower room housed at the rear, providing access to the secluded rear garden. There is an additional bedroom and kitchen on the lower level, benefitting from its own street entrance, making it ideal for a granny annex, which could easily be converted back into the original house. The impressive reception space occupies the front of the first floor, benefitting from floor to ceiling sash windows, ceiling rose and fireplace and enjoying serene views across the square onto the Church. There are two bedrooms and a bathroom situated behind. There is a large double bedroom with ample storage on the top floor, with the large family bathroom set behind. Cloudesley Square is a fabulous garden square in an idyllic location, situated in the heart of Barnsbury, retaining fantastic links to Upper Street and the international transport hub that is Kings Cross/ St Pancras International. The property affords superb access to the transport at Angel Underground (Northern Line) and Highbury & Islington Station (National Rail & Victoria Line) providing excellent links around London. The buzz of Upper Street is only a short walk away. The celebrated gastropubs the The Pig & Butcher, the Albion and the Drapers Arms can be found locally within Barnsbury, and the incredibly popular restaurant/café Sunday is situated just up the road. Supermarkets Waitrose and Sainsbury's are located at the Southern end of Liverpool Road, close to Angel. The Kings Cross regeneration/ development which includes Granary Square, new restaurants and shops, and a Waitrose, are within close proximity.
Properties You Might Also Like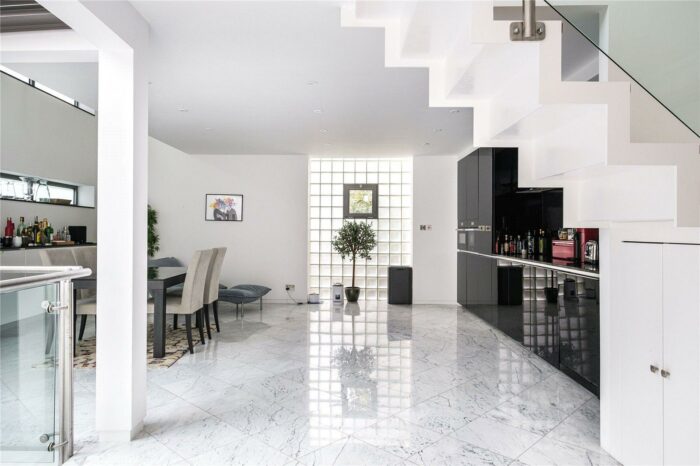 GBP 1,675,000
(US $1,773,870)
Greater London, England, United Kingdom
2 bedroom House in Barnsbury
GBP 2,000,000
(US $2,118,054)
Greater London, England, United Kingdom
3 bedroom Flat/Apartment in Islington Central
This unique 4 Bedroom home with 2 Bathrooms is a prime example of the luxury real estate available in Greater London, England. You can visit our England search pages for more luxury real estate choices in Greater London.