| | |
| --- | --- |
| ffd_listing_title | 4 bedroom Flat/Apartment in Palewell |
| ffd_unique_id | |
| ffd_mls_id | |
| ffd_salesforce_id | a0E6g00000A3wMJEAZ |
| ffd_address_pb | Boat Race House, 63 Mortlake High Street, SW14 |
| address | Boat Race House, 63 Mortlake High Street, SW14 |
| baths | 4 |
| beds | 4 |
| ffd_city_pb | Greater London |
| ffd_colistingagent_pb | |
| ffd_colistingagentemail_pb | |
| ffd_colistingagentmlsid | |
| ffd_colistingagentname | |
| ffd_colistingofficemlsid | |
| ffd_colistingofficename_pb | |
| ffd_country_pb | United Kingdom |
| ffd_createddate | 2023-02-11T11:08:14.000+0000 |
| about | One of the most exciting properties to be sold in 2022 in South West London this stunning penthouse apartment on the River Thames is an exceptional example of high end lateral riverside living. Forming the whole of the top floor of this prestigious new development by the finish of the Oxford & Cambridge Boat Race this near 3200 Sqft lateral apartment is sold to the highest specification. With high ceilings and large rooms this grand residence exudes luxury. There is a large open plan kitchen, fitted with Miele appliances and wine cooler and living room leading to a terrace with some of the finest river views in South West London. The master bedroom suites have large dressing rooms and generous shower rooms with Villeroy & Bosch sanitary ware and there are two further double bedrooms and two family bathrooms also with Villeroy & Bosch sanitary ware. The whole penthouse benefits from a Rako automation system and each room has lighting systems to adjust to mood. The flat comes with two underground secure allocated parking spaces with direct access to the building and access to a gym next door to the development. Boat Race House is a boutique riverside development which is located next to the finishing post of the historic annual Oxford and Cambridge Boat Race – a world famous London event since 1892. The peaceful riverside setting is perfectly located for access to Mortlake Station, Barnes Village as wells as some amazing leisure places such as Rick Stein's restaurant and The White Hart pub. Furthermore residents have immediate access to cycle routes and the pathways that run along the banks of the river. Regular buses go to Richmond and Hammersmith for further access to the City on the District, Piccadilly and Hammersmith and City Lines. Heathrow airport is 13 miles and Gatwick 31 miles. Please note the images have been virtually furnished for marketing purposes. |
| ffd_displayaddress | |
| floor | |
| ffd_halfbathrooms_pb | 0 |
| ffd_hide_address_on_site | |
| ffd_key_words | Greater London;United Kingdom;City;Greater London, England;Richmond upon Thames England;City Greater London;City Richmond upon Thames;Richmond upon Thames;Palewell Greater London;UK |
| ffd_lastmodifieddate | 2023-03-24T00:33:24.000+0000 |
| lat | 51.469212 |
| ffd_listofficemlsid | |
| ffd_listofficename | |
| ffd_listingagent_pb | 0036g00002AM6pjAAD |
| ffd_listing_agent_email | |
| ffd_listing_agent_firstname | |
| ffd_listing_agent_lastname | |
| ffd_listingagentmlsid | |
| ffd_listingagentname | |
| ffd_listing_agent_website | https://www.chestertons.co.uk/en-gb/property-to-buy/gb/palewell/see200082 |
| price | 3865449 |
| ffd_listingtype | Sale |
| location | Greater London, England, United Kingdom |
| lng | -0.269094 |
| sq_feet | 0 |
| ffd_non_member_paid | |
| ffd_other_currency_amount | 3650000 |
| ffd_other_currency_type | GBP |
| ffd_ownerid | 0056g000006m29xAAA |
| ffd_pool_pb | |
| ffd_price_upon_request | |
| building_type | Apartment |
| ffd_id | a0E6g00000A3wMJEAZ |
| ffd_totalarea_pb | 3155 |
| ffd_solddate | |
| ffd_soldprice | |
| ffd_state_pb | England |
| ffd_status | Active |
| ffd_threequarterbathrooms | 0 |
| ffd_unit_of_measure | Square Feet |
| ffd_brokerage_id | 0016g00002KskJEAAZ |
| year_built | 0 |
| ffd_postalcode_pb | SW14 8AJ |
| pba__WebsiteId__c | 314986 |
| pba__Listing_Website__c | https://www.forbesglobalproperties.com/listings/4-bedroom-flat-apartment-in-palewell |
| Site_Post_Id__c | 314986 |
| ffd_media | a:12:{i:0;s:88:"https://images.chestertons.co.uk/assets/r/chips/che/SEE/20/SEE200082_07-JPG-l-1600-0.jpg";i:1;s:88:"https://images.chestertons.co.uk/assets/r/chips/che/SEE/20/SEE200082_04-JPG-l-1600-0.jpg";i:2;s:88:"https://images.chestertons.co.uk/assets/r/chips/che/SEE/20/SEE200082_09-JPG-l-1600-0.jpg";i:3;s:88:"https://images.chestertons.co.uk/assets/r/chips/che/SEE/20/SEE200082_10-JPG-l-1600-0.jpg";i:4;s:88:"https://images.chestertons.co.uk/assets/r/chips/che/SEE/20/SEE200082_12-JPG-l-1600-0.jpg";i:5;s:88:"https://images.chestertons.co.uk/assets/r/chips/che/SEE/20/SEE200082_05-JPG-l-1600-0.jpg";i:6;s:88:"https://images.chestertons.co.uk/assets/r/chips/che/SEE/20/SEE200082_08-JPG-l-1600-0.jpg";i:7;s:88:"https://images.chestertons.co.uk/assets/r/chips/che/SEE/20/SEE200082_11-JPG-l-1600-0.jpg";i:8;s:88:"https://images.chestertons.co.uk/assets/r/chips/che/SEE/20/SEE200082_06-JPG-l-1600-0.jpg";i:9;s:88:"https://images.chestertons.co.uk/assets/r/chips/che/SEE/20/SEE200082_03-JPG-l-1600-0.jpg";i:10;s:88:"https://images.chestertons.co.uk/assets/r/chips/che/SEE/20/SEE200082_13-JPG-p-1600-0.jpg";i:11;s:88:"https://images.chestertons.co.uk/assets/r/chips/che/SEE/20/SEE200082_14-PNG-l-1600-0.jpg";} |
| _thumbnail_id | 314987 |
| ffd_featured_image | https://images.chestertons.co.uk/assets/r/chips/che/SEE/20/SEE200082_07-JPG-l-1600-0.jpg |
| agents | a:1:{i:0;s:6:"315688";} |
| _wp_old_date | 2023-02-13 |
| ffd_record_is_deleted | |
| _wp_old_slug | 4-bedroom-flat-apartment-in-boat-race-house |
| featured_images | 314987 |
| primary_media_0_image | 314989 |
| _primary_media_0_image | field_5f988067abcc4 |
| primary_media_0_video | |
| _primary_media_0_video | field_5f98807dabcc5 |
| primary_media_1_image | 314988 |
| _primary_media_1_image | field_5f988067abcc4 |
| primary_media_1_video | |
| _primary_media_1_video | field_5f98807dabcc5 |
| primary_media | 2 |
| _primary_media | field_5f98805cabcc3 |
| secondary_media_0_image | 314989 |
| _secondary_media_0_image | field_5f988119a39fd |
| secondary_media_0_video | |
| _secondary_media_0_video | field_5f988119a39fe |
| secondary_media_1_image | 314991 |
| _secondary_media_1_image | field_5f988119a39fd |
| secondary_media_1_video | |
| _secondary_media_1_video | field_5f988119a39fe |
| secondary_media_2_image | 314990 |
| _secondary_media_2_image | field_5f988119a39fd |
| secondary_media_2_video | |
| _secondary_media_2_video | field_5f988119a39fe |
| secondary_media_3_image | 314992 |
| _secondary_media_3_image | field_5f988119a39fd |
| secondary_media_3_video | |
| _secondary_media_3_video | field_5f988119a39fe |
| secondary_media_4_image | 314994 |
| _secondary_media_4_image | field_5f988119a39fd |
| secondary_media_4_video | |
| _secondary_media_4_video | field_5f988119a39fe |
| secondary_media_5_image | 314995 |
| _secondary_media_5_image | field_5f988119a39fd |
| secondary_media_5_video | |
| _secondary_media_5_video | field_5f988119a39fe |
| secondary_media_6_image | 314996 |
| _secondary_media_6_image | field_5f988119a39fd |
| secondary_media_6_video | |
| _secondary_media_6_video | field_5f988119a39fe |
| secondary_media_7_image | 314997 |
| _secondary_media_7_image | field_5f988119a39fd |
| secondary_media_7_video | |
| _secondary_media_7_video | field_5f988119a39fe |
| secondary_media_8_image | 314998 |
| _secondary_media_8_image | field_5f988119a39fd |
| secondary_media_8_video | |
| _secondary_media_8_video | field_5f988119a39fe |
| secondary_media | 9 |
| _secondary_media | field_5f988119a39fc |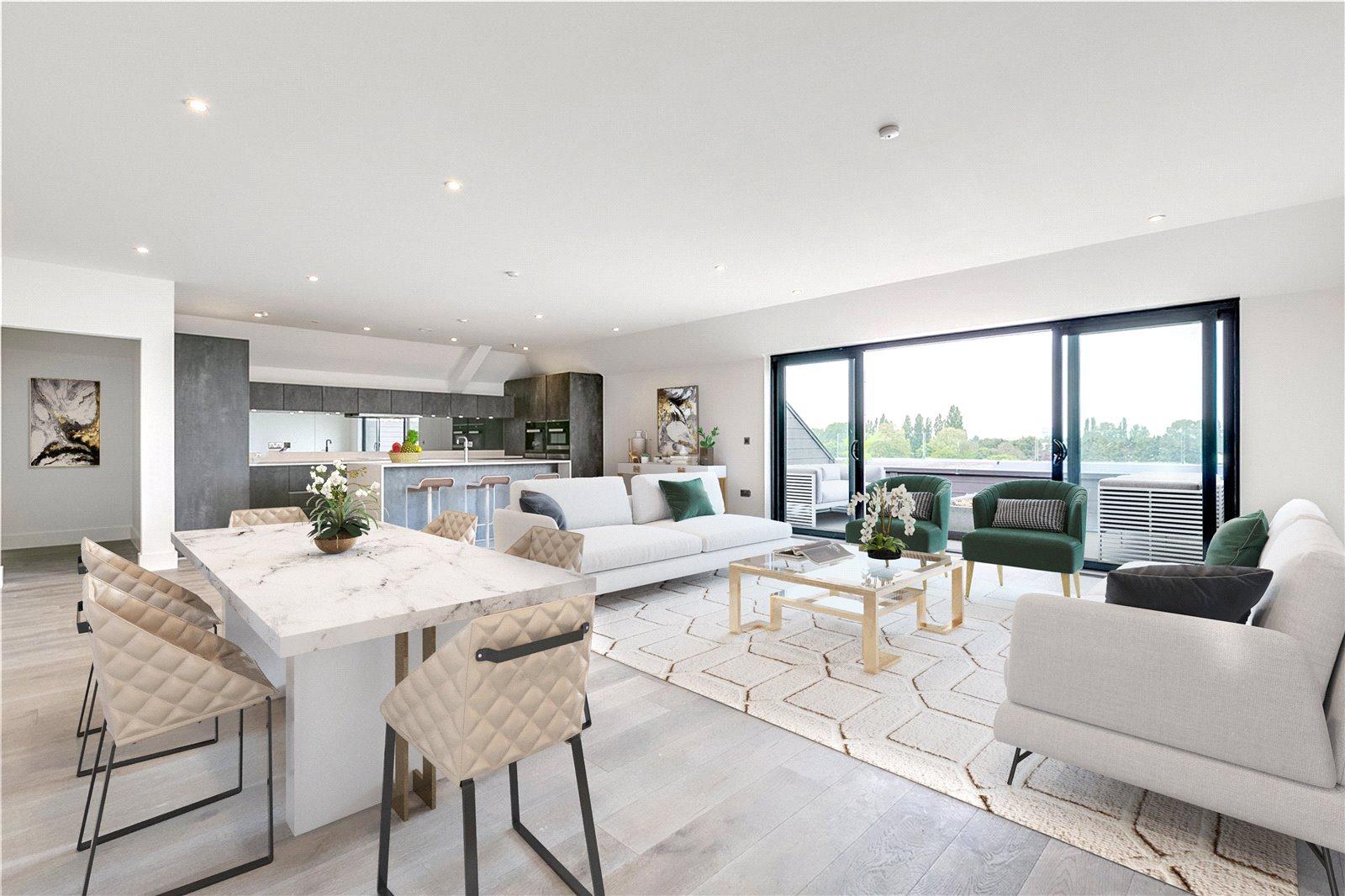 4 bedroom Flat/Apartment in Palewell
GBP 3,650,000
(US $3,865,449)
Boat Race House, 63 Mortlake High Street, SW14
Greater London, England, United Kingdom
Status: Active
One of the most exciting properties to be sold in 2022 in South West London this stunning penthouse apartment on the River Thames is an exceptional example of high end lateral riverside living. Forming the whole of the top floor of this prestigious new development by the finish of the Oxford & Cambridge Boat Race this near 3200 Sqft lateral apartment is sold to the highest specification. With high ceilings and large rooms this grand residence exudes luxury. There is a large open plan kitchen, fitted with Miele appliances and wine cooler and living room leading to a terrace with some of the finest river views in South West London. The master bedroom suites have large dressing rooms and generous shower rooms with Villeroy & Bosch sanitary ware and there are two further double bedrooms and two family bathrooms also with Villeroy & Bosch sanitary ware. The whole penthouse benefits from a Rako automation system and each room has lighting systems to adjust to mood. The flat comes with two underground secure allocated parking spaces with direct access to the building and access to a gym next door to the development. Boat Race House is a boutique riverside development which is located next to the finishing post of the historic annual Oxford and Cambridge Boat Race – a world famous London event since 1892. The peaceful riverside setting is perfectly located for access to Mortlake Station, Barnes Village as wells as some amazing leisure places such as Rick Stein's restaurant and The White Hart pub. Furthermore residents have immediate access to cycle routes and the pathways that run along the banks of the river. Regular buses go to Richmond and Hammersmith for further access to the City on the District, Piccadilly and Hammersmith and City Lines. Heathrow airport is 13 miles and Gatwick 31 miles. Please note the images have been virtually furnished for marketing purposes.
Properties You Might Also Like
GBP 1,995,000
(US $2,112,759)
Greater London, England, United Kingdom
2 bedroom Flat/Apartment in Mortlake
GBP 1,675,000
(US $1,773,870)
Greater London, England, United Kingdom
5 bedroom House in Palewell
This unique 4 Bedroom home with 4 Bathrooms is a prime example of the luxury real estate available in Greater London, England. You can visit our England search pages for more luxury real estate choices in Greater London.