| | |
| --- | --- |
| ffd_listing_title | 3 bedroom in Warwick Avenue |
| ffd_unique_id | |
| ffd_mls_id | |
| ffd_salesforce_id | a0E6g00000A4B4UEAV |
| ffd_address_pb | Randolph Avenue, Little Venice, W9 |
| address | Randolph Avenue, Little Venice, W9 |
| baths | 2 |
| beds | 3 |
| ffd_city_pb | Greater London |
| ffd_colistingagent_pb | |
| ffd_colistingagentemail_pb | |
| ffd_colistingagentmlsid | |
| ffd_colistingagentname | |
| ffd_colistingofficemlsid | |
| ffd_colistingofficename_pb | |
| ffd_country_pb | United Kingdom |
| ffd_createddate | 2023-04-12T00:28:32.000+0000 |
| about | A highly sought after modern town house offering approximately 1100 square feet of accommodation providing three bedrooms, one bathroom and one shower room over two storeys. The property has a well-maintained private patio at the front of the house, a spacious open plan reception room providing direct access to the private patio garden at the rear allowing plenty of natural light, fully fitted kitchen, principal bedroom with fitted wardrobes, two further bedrooms, family bathroom and a guest cloakroom. Rare benefits include private parking for two cars behind the gated close. The property is located on Randolph Avenue in the heart of Little Venice, a short walking distance to Little Venice canal (0.1 miles) while the shops, restaurants and cafes on Clifton Road are around the corner being less than 250 ft. The Underground stations of Warwick Avenue (0.3 miles) and Maida Vale (0.4 miles) are both situated on the Bakerloo Line providing direct access to Baker Street and Paddington Station. |
| ffd_displayaddress | |
| floor | |
| ffd_halfbathrooms_pb | 0 |
| ffd_hide_address_on_site | |
| ffd_key_words | Greater London;United Kingdom;City;Greater London, England;Westminster England;City Greater London;City Westminster;Westminster;Warwick Avenue Greater London;UK |
| ffd_lastmodifieddate | 2023-05-28T00:26:05.000+0000 |
| lat | 51.524291 |
| ffd_listofficemlsid | |
| ffd_listofficename | |
| ffd_listingagent_pb | 0036g00002ALrRKAA1 |
| ffd_listing_agent_email | |
| ffd_listing_agent_firstname | |
| ffd_listing_agent_lastname | |
| ffd_listingagentmlsid | |
| ffd_listingagentname | |
| ffd_listing_agent_website | https://www.chestertons.co.uk/en-gb/property-to-buy/gb/little+venice/ven130164 |
| price | 2297515 |
| ffd_listingtype | Sale |
| location | Greater London, England, United Kingdom |
| lng | -0.178806 |
| sq_feet | 0 |
| ffd_non_member_paid | |
| ffd_other_currency_amount | 1850000 |
| ffd_other_currency_type | GBP |
| ffd_ownerid | 0056g000006m3dAAAQ |
| ffd_pool_pb | |
| ffd_price_upon_request | |
| building_type | Townhouse |
| ffd_id | a0E6g00000A4B4UEAV |
| ffd_totalarea_pb | 1103 |
| ffd_solddate | |
| ffd_soldprice | |
| ffd_state_pb | England |
| ffd_status | Active |
| ffd_threequarterbathrooms | 0 |
| ffd_unit_of_measure | Square Feet |
| ffd_brokerage_id | 0016g00002KskJEAAZ |
| year_built | 0 |
| ffd_postalcode_pb | W9 1BP |
| pba__WebsiteId__c | 344271 |
| pba__Listing_Website__c | https://www.forbesglobalproperties.com/listings/3-bedroom-in-warwick-avenue |
| Site_Post_Id__c | 344271 |
| ffd_media | a:12:{i:0;s:88:"https://images.chestertons.co.uk/assets/r/chips/che/VEN/13/VEN130164_02-JPG-l-1600-0.jpg";i:1;s:88:"https://images.chestertons.co.uk/assets/r/chips/che/VEN/13/VEN130164_16-JPG-l-1600-0.jpg";i:2;s:88:"https://images.chestertons.co.uk/assets/r/chips/che/VEN/13/VEN130164_19-JPG-l-1600-0.jpg";i:3;s:88:"https://images.chestertons.co.uk/assets/r/chips/che/VEN/13/VEN130164_08-JPG-l-1600-0.jpg";i:4;s:88:"https://images.chestertons.co.uk/assets/r/chips/che/VEN/13/VEN130164_07-JPG-l-1600-0.jpg";i:5;s:88:"https://images.chestertons.co.uk/assets/r/chips/che/VEN/13/VEN130164_10-JPG-l-1600-0.jpg";i:6;s:88:"https://images.chestertons.co.uk/assets/r/chips/che/VEN/13/VEN130164_13-JPG-l-1600-0.jpg";i:7;s:88:"https://images.chestertons.co.uk/assets/r/chips/che/VEN/13/VEN130164_15-JPG-l-1600-0.jpg";i:8;s:88:"https://images.chestertons.co.uk/assets/r/chips/che/VEN/13/VEN130164_17-JPG-l-1600-0.jpg";i:9;s:88:"https://images.chestertons.co.uk/assets/r/chips/che/VEN/13/VEN130164_20-JPG-l-1600-0.jpg";i:10;s:88:"https://images.chestertons.co.uk/assets/r/chips/che/VEN/13/VEN130164_01-PNG-l-1600-0.jpg";i:11;s:88:"https://images.chestertons.co.uk/assets/r/chips/che/VEN/13/VEN130164_05-JPG-p-1600-0.jpg";} |
| _thumbnail_id | 344272 |
| ffd_featured_image | https://images.chestertons.co.uk/assets/r/chips/che/VEN/13/VEN130164_02-JPG-l-1600-0.jpg |
| agents | a:2:{i:0;s:6:"313251";i:1;N;} |
| _wp_old_date | 2023-04-13 |
| ffd_record_is_deleted | |
| featured_images | 344272 |
| listing_images | a:12:{i:0;s:6:"344272";i:1;s:6:"344273";i:2;s:6:"344274";i:3;s:6:"344275";i:4;s:6:"344276";i:5;s:6:"344277";i:6;s:6:"344278";i:7;s:6:"344279";i:8;s:6:"344280";i:9;s:6:"344281";i:10;s:6:"344282";i:11;s:6:"344283";} |
| api_external_id | VEN130164 |
| post_member_id | 312441 |
| post_agent_id | 313251 |
| _sbi_oembed_done_checking | 1 |
| postal_code | W9 1BP |
| ffd_unitnumber | |
| county | Westminster |
| neighborhood | Warwick Avenue |
| listed_date | 2023-04-11 00:00:00.000000 |
| ffd_api_external_id | VEN130164 |
| post_coagent_id | |
| _listing_images | field_642ee01c5d170 |
3 bedroom in Warwick Avenue
GBP 1,850,000
(US $2,297,515)
Randolph Avenue, Little Venice, W9
Greater London, England, W9 1BP, United Kingdom
Status: Active
A highly sought after modern town house offering approximately 1100 square feet of accommodation providing three bedrooms, one bathroom and one shower room over two storeys.
The property has a well-maintained private patio at the front of the house, a spacious open plan reception room
providing direct access to the private patio garden at the rear allowing plenty of natural light, fully fitted kitchen, principal bedroom with fitted wardrobes, two further bedrooms, family bathroom and a guest cloakroom. Rare benefits include private parking for two cars behind the gated close.
The property is located on Randolph Avenue in the heart of Little Venice, a short walking distance to Little Venice canal (0.1 miles) while the shops, restaurants and cafes on Clifton Road are around the corner being less than 250 ft. The Underground stations of Warwick Avenue (0.3 miles) and Maida Vale (0.4 miles) are both situated on the Bakerloo Line providing direct access to Baker Street and Paddington Station.
Properties You Might Also Like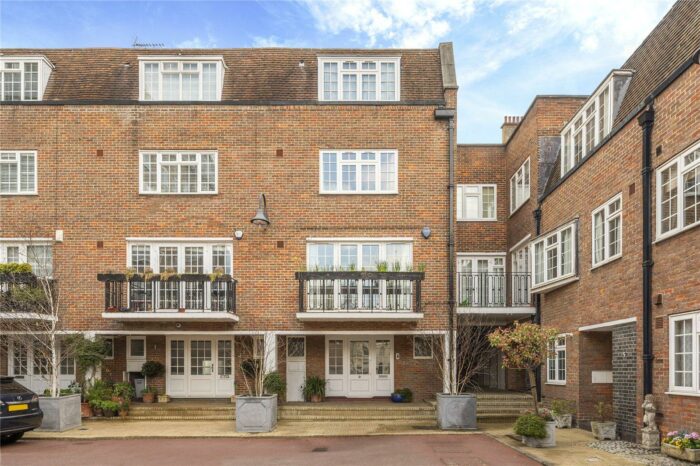 GBP 2,150,000
(US $2,670,085)
Greater London, England, United Kingdom
4 bedroom House near Warwick Avenue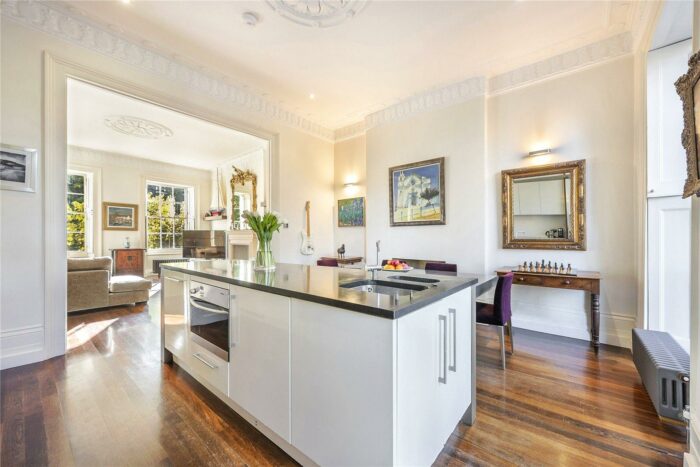 GBP 1,875,000
(US $2,328,563)
Greater London, England, United Kingdom
2 bedroom apartment in Paddington
This unique 3 Bedroom home with 2 Bathrooms is a prime example of the luxury real estate available in Greater London, England. You can visit our England search pages for more luxury real estate choices in Greater London.