| | |
| --- | --- |
| ffd_listing_title | 3 bedroom house in Lower Holloway |
| ffd_unique_id | |
| ffd_mls_id | |
| ffd_salesforce_id | a0E6g00000BGDknEAH |
| ffd_address_pb | Ellington Street, Barnsbury, N7 |
| address | Ellington Street, Barnsbury, N7 |
| baths | 2 |
| beds | 3 |
| ffd_city_pb | Greater London |
| ffd_colistingagent_pb | |
| ffd_colistingagentemail_pb | |
| ffd_colistingagentmlsid | |
| ffd_colistingagentname | |
| ffd_colistingofficemlsid | |
| ffd_colistingofficename_pb | |
| ffd_country_pb | United Kingdom |
| ffd_createddate | 2023-05-26T00:24:45.000+0000 |
| about | An attractive, design led and immaculately presented three double bedroom, two bathroom Freehold, benefitting from a peaceful courtyard garden and set on a sought after street, only moments from Highbury & Islington. Accommodation has been thoughtfully considered and comprises; a dual reception space on the raised level, flooded in light courtesy of the sash windows and complete with ornate period fireplace(s). The lower level is home to an impressive family space, featuring poured concrete floors and bespoke carpentry which maximises storage and the ability to live clutter free, with the kitchen set in the middle of the floor, with the dining space providing access via sliding glass doors to the manicured rear garden. There is also a guest bedroom with en-suite on this level. There are two double bedrooms housed on the top floor. Ellington Street is a highly regarded, wide tree lined street, affording superb access to the transport at Highbury & Islington Station (National Rail, Victoria Line & London Overground) providing excellent links around London and Caledonian Road & Holloway Road Stations (Piccadilly Line) with trains through the West End out to Heathrow. The buzz of Upper Streetis only a short walk away. The celebrated gastropubs the Duchess of Kent, the Albion and the Drapers Arms can be found locally within Barnsbury, and the incredibly popular restaurant/café Sunday is situated just up the road. Supermarkets Waitrose , Mar & Spencer, Sainsbury's & Tesco's are all located nearby. The new Kings Cross regeneration/ development which includes Granary Square, new restaurants and shops are within close proximity. |
| ffd_displayaddress | |
| floor | |
| ffd_halfbathrooms_pb | 0 |
| ffd_hide_address_on_site | |
| ffd_key_words | Greater London;United Kingdom;City;Greater London, England;Islington England;City Greater London;City Islington;Islington;Lower Holloway Greater London;UK |
| ffd_lastmodifieddate | 2023-05-28T00:24:58.000+0000 |
| lat | 51.546242 |
| ffd_listofficemlsid | |
| ffd_listofficename | |
| ffd_listingagent_pb | 0036g00002ALrTLAA1 |
| ffd_listing_agent_email | |
| ffd_listing_agent_firstname | |
| ffd_listing_agent_lastname | |
| ffd_listingagentmlsid | |
| ffd_listingagentname | |
| ffd_listing_agent_website | https://www.chestertons.co.uk/en-gb/property-to-buy/gb/street/ellington+street+n7/isl230130 |
| price | 2173325 |
| ffd_listingtype | Sale |
| location | Greater London, England, United Kingdom |
| lng | -0.110121 |
| sq_feet | 0 |
| ffd_non_member_paid | |
| ffd_other_currency_amount | 1750000 |
| ffd_other_currency_type | GBP |
| ffd_ownerid | 0056g000006m3dUAAQ |
| ffd_pool_pb | |
| ffd_price_upon_request | |
| building_type | Townhouse |
| ffd_id | a0E6g00000BGDknEAH |
| ffd_totalarea_pb | 0 |
| ffd_solddate | |
| ffd_soldprice | |
| ffd_state_pb | England |
| ffd_status | Active |
| ffd_threequarterbathrooms | 0 |
| ffd_unit_of_measure | Square Feet |
| ffd_brokerage_id | 0016g00002KskJEAAZ |
| year_built | 0 |
| ffd_postalcode_pb | N7 8PJ |
| pba__WebsiteId__c | 368826 |
| pba__Listing_Website__c | https://www.forbesglobalproperties.com/listings/3-bedroom-house-in-lower-holloway |
| Site_Post_Id__c | 368826 |
| ffd_media | a:32:{i:0;s:88:"https://images.chestertons.co.uk/assets/r/chips/che/ISL/23/ISL230130_21-JPG-l-1600-0.jpg";i:1;s:88:"https://images.chestertons.co.uk/assets/r/chips/che/ISL/23/ISL230130_30-JPG-l-1600-0.jpg";i:2;s:88:"https://images.chestertons.co.uk/assets/r/chips/che/ISL/23/ISL230130_16-JPG-l-1600-0.jpg";i:3;s:88:"https://images.chestertons.co.uk/assets/r/chips/che/ISL/23/ISL230130_12-JPG-l-1600-0.jpg";i:4;s:88:"https://images.chestertons.co.uk/assets/r/chips/che/ISL/23/ISL230130_24-JPG-l-1600-0.jpg";i:5;s:88:"https://images.chestertons.co.uk/assets/r/chips/che/ISL/23/ISL230130_09-JPG-l-1600-0.jpg";i:6;s:88:"https://images.chestertons.co.uk/assets/r/chips/che/ISL/23/ISL230130_13-JPG-l-1600-0.jpg";i:7;s:88:"https://images.chestertons.co.uk/assets/r/chips/che/ISL/23/ISL230130_02-JPG-l-1600-0.jpg";i:8;s:88:"https://images.chestertons.co.uk/assets/r/chips/che/ISL/23/ISL230130_31-JPG-l-1600-0.jpg";i:9;s:88:"https://images.chestertons.co.uk/assets/r/chips/che/ISL/23/ISL230130_03-JPG-l-1600-0.jpg";i:10;s:88:"https://images.chestertons.co.uk/assets/r/chips/che/ISL/23/ISL230130_14-JPG-p-1600-0.jpg";i:11;s:88:"https://images.chestertons.co.uk/assets/r/chips/che/ISL/23/ISL230130_04-JPG-l-1600-0.jpg";i:12;s:88:"https://images.chestertons.co.uk/assets/r/chips/che/ISL/23/ISL230130_05-JPG-l-1600-0.jpg";i:13;s:88:"https://images.chestertons.co.uk/assets/r/chips/che/ISL/23/ISL230130_07-JPG-l-1600-0.jpg";i:14;s:88:"https://images.chestertons.co.uk/assets/r/chips/che/ISL/23/ISL230130_15-JPG-p-1600-0.jpg";i:15;s:88:"https://images.chestertons.co.uk/assets/r/chips/che/ISL/23/ISL230130_17-JPG-l-1600-0.jpg";i:16;s:88:"https://images.chestertons.co.uk/assets/r/chips/che/ISL/23/ISL230130_18-JPG-l-1600-0.jpg";i:17;s:88:"https://images.chestertons.co.uk/assets/r/chips/che/ISL/23/ISL230130_23-JPG-l-1600-0.jpg";i:18;s:88:"https://images.chestertons.co.uk/assets/r/chips/che/ISL/23/ISL230130_25-JPG-l-1600-0.jpg";i:19;s:88:"https://images.chestertons.co.uk/assets/r/chips/che/ISL/23/ISL230130_26-JPG-p-1600-0.jpg";i:20;s:88:"https://images.chestertons.co.uk/assets/r/chips/che/ISL/23/ISL230130_27-JPG-l-1600-0.jpg";i:21;s:88:"https://images.chestertons.co.uk/assets/r/chips/che/ISL/23/ISL230130_28-JPG-l-1600-0.jpg";i:22;s:88:"https://images.chestertons.co.uk/assets/r/chips/che/ISL/23/ISL230130_29-JPG-l-1600-0.jpg";i:23;s:88:"https://images.chestertons.co.uk/assets/r/chips/che/ISL/23/ISL230130_06-JPG-l-1600-0.jpg";i:24;s:88:"https://images.chestertons.co.uk/assets/r/chips/che/ISL/23/ISL230130_10-JPG-l-1600-0.jpg";i:25;s:88:"https://images.chestertons.co.uk/assets/r/chips/che/ISL/23/ISL230130_22-JPG-p-1600-0.jpg";i:26;s:88:"https://images.chestertons.co.uk/assets/r/chips/che/ISL/23/ISL230130_20-JPG-p-1600-0.jpg";i:27;s:88:"https://images.chestertons.co.uk/assets/r/chips/che/ISL/23/ISL230130_19-JPG-l-1600-0.jpg";i:28;s:88:"https://images.chestertons.co.uk/assets/r/chips/che/ISL/23/ISL230130_11-JPG-l-1600-0.jpg";i:29;s:88:"https://images.chestertons.co.uk/assets/r/chips/che/ISL/23/ISL230130_08-JPG-l-1600-0.jpg";i:30;s:88:"https://images.chestertons.co.uk/assets/r/chips/che/ISL/23/ISL230130_01-PNG-l-1600-0.jpg";i:31;s:88:"https://images.chestertons.co.uk/assets/r/chips/che/ISL/23/ISL230130_32-JPG-l-1600-0.jpg";} |
| _thumbnail_id | 368827 |
| ffd_featured_image | https://images.chestertons.co.uk/assets/r/chips/che/ISL/23/ISL230130_21-JPG-l-1600-0.jpg |
| agents | a:2:{i:0;s:6:"313254";i:1;N;} |
| ffd_record_is_deleted | |
| featured_images | 368827 |
| listing_images | a:32:{i:0;s:6:"368827";i:1;s:6:"368828";i:2;s:6:"368829";i:3;s:6:"368830";i:4;s:6:"368831";i:5;s:6:"368832";i:6;s:6:"368833";i:7;s:6:"368834";i:8;s:6:"368835";i:9;s:6:"368836";i:10;s:6:"368837";i:11;s:6:"368838";i:12;s:6:"368839";i:13;s:6:"368840";i:14;s:6:"368841";i:15;s:6:"368842";i:16;s:6:"368843";i:17;s:6:"368844";i:18;s:6:"368845";i:19;s:6:"368846";i:20;s:6:"368847";i:21;s:6:"368848";i:22;s:6:"368849";i:23;s:6:"368850";i:24;s:6:"368851";i:25;s:6:"368852";i:26;s:6:"368853";i:27;s:6:"368854";i:28;s:6:"368855";i:29;s:6:"368856";i:30;s:6:"368857";i:31;s:6:"368858";} |
| api_external_id | ISL230130 |
| _sbi_oembed_done_checking | 1 |
| post_member_id | 312441 |
| post_agent_id | 313254 |
| postal_code | N7 8PJ |
| ffd_unitnumber | |
| county | Islington |
| neighborhood | Lower Holloway |
| listed_date | 2023-05-25 00:00:00.000000 |
| ffd_api_external_id | ISL230130 |
| post_coagent_id | |
| _listing_images | field_642ee01c5d170 |
3 bedroom house in Lower Holloway
GBP 1,750,000
(US $2,173,325)
Ellington Street, Barnsbury, N7
Greater London, England, N7 8PJ, United Kingdom
Status: Active
An attractive, design led and immaculately presented three double bedroom, two bathroom Freehold, benefitting from a peaceful courtyard garden and set on a sought after street, only moments from Highbury & Islington. Accommodation has been thoughtfully considered and comprises; a dual reception space on the raised level, flooded in light courtesy of the sash windows and complete with ornate period fireplace(s). The lower level is home to an impressive family space, featuring poured concrete floors and bespoke carpentry which maximises storage and the ability to live clutter free, with the kitchen set in the middle of the floor, with the dining space providing access via sliding glass doors to the manicured rear garden. There is also a guest bedroom with en-suite on this level. There are two double bedrooms housed on the top floor. Ellington Street is a highly regarded, wide tree lined street, affording superb access to the transport at Highbury & Islington Station (National Rail, Victoria Line & London Overground) providing excellent links around London and Caledonian Road & Holloway Road Stations (Piccadilly Line) with trains through the West End out to Heathrow. The buzz of Upper Streetis only a short walk away. The celebrated gastropubs the Duchess of Kent, the Albion and the Drapers Arms can be found locally within Barnsbury, and the incredibly popular restaurant/café Sunday is situated just up the road. Supermarkets Waitrose , Mar & Spencer, Sainsbury's & Tesco's are all located nearby. The new Kings Cross regeneration/ development which includes Granary Square, new restaurants and shops are within close proximity.
Properties You Might Also Like
GBP 1,675,000
(US $2,080,183)
Greater London, England, United Kingdom
3 bedroom House in Paradise Passage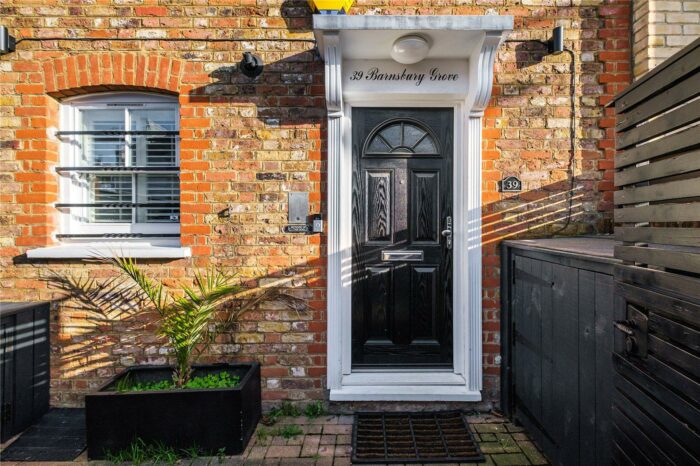 GBP 1,750,000
(US $2,173,325)
Greater London, England, United Kingdom
4 bedroom house in Holloway
This unique 3 Bedroom home with 2 Bathrooms is a prime example of the luxury real estate available in Greater London, England. You can visit our England search pages for more luxury real estate choices in Greater London.