| | |
| --- | --- |
| ffd_listing_title | 3 bedroom house in Lisson Grove |
| ffd_unique_id | |
| ffd_mls_id | |
| ffd_salesforce_id | a0E6g00000BG5m1EAD |
| ffd_address_pb | Lyons Place, St John's Wood, NW8 |
| address | Lyons Place, St John's Wood, NW8 |
| baths | 3 |
| beds | 3 |
| ffd_city_pb | Greater London |
| ffd_colistingagent_pb | |
| ffd_colistingagentemail_pb | |
| ffd_colistingagentmlsid | |
| ffd_colistingagentname | |
| ffd_colistingofficemlsid | |
| ffd_colistingofficename_pb | |
| ffd_country_pb | United Kingdom |
| ffd_createddate | 2023-05-05T00:35:54.000+0000 |
| about | Sole Agent. An opportunity to acquire a recently built 2,000 sq. ft. town house, moments away from both Little Venice and St John's Wood High Street. The property has been interior designed to an immaculate standard throughout and comprises of a superb 23ft reception room leading onto a separate kitchen with state-of-the-art appliances which is open plan to a second reception/dining room. Both areas have sliding doors leading onto a secluded terrace. The 1st floor consists of the principal bedroom suite with a large walk-in wardrobe, a good sized second bedroom with generous wardrobe space and a en-suite bathroom and bedroom three. There is also a fourth bedroom/study, utility room and a cloakroom on the ground floor. The property further benefits from the development's concierge service, 2 unallocated underground parking spaces (via license), under floor heating, comfort cooling & air conditioning throughout. |
| ffd_displayaddress | |
| floor | |
| ffd_halfbathrooms_pb | 0 |
| ffd_hide_address_on_site | |
| ffd_key_words | Greater London;United Kingdom;City;Greater London, England;London Borough of Camden England;City Greater London;City London Borough of Camden;London Borough of Camden;Lisson Grove Greater London;UK |
| ffd_lastmodifieddate | 2023-05-18T00:35:34.000+0000 |
| lat | 51.524226 |
| ffd_listofficemlsid | |
| ffd_listofficename | |
| ffd_listingagent_pb | 0036g00002ALrTpAAL |
| ffd_listing_agent_email | |
| ffd_listing_agent_firstname | |
| ffd_listing_agent_lastname | |
| ffd_listingagentmlsid | |
| ffd_listingagentname | |
| ffd_listing_agent_website | https://www.chestertons.co.uk/en-gb/property-to-buy/gb/st+john-s+wood/sjw230032 |
| price | 4340440.5 |
| ffd_listingtype | Sale |
| location | Greater London, England, United Kingdom |
| lng | -0.175268 |
| sq_feet | 0 |
| ffd_non_member_paid | |
| ffd_other_currency_amount | 3495000 |
| ffd_other_currency_type | GBP |
| ffd_ownerid | 0056g000006m3dZAAQ |
| ffd_pool_pb | |
| ffd_price_upon_request | |
| building_type | Townhouse |
| ffd_id | a0E6g00000BG5m1EAD |
| ffd_totalarea_pb | 2000 |
| ffd_solddate | |
| ffd_soldprice | |
| ffd_state_pb | England |
| ffd_status | Active |
| ffd_threequarterbathrooms | 0 |
| ffd_unit_of_measure | Square Feet |
| ffd_brokerage_id | 0016g00002KskJEAAZ |
| year_built | 0 |
| ffd_postalcode_pb | NW8 8NL |
| pba__WebsiteId__c | 356601 |
| pba__Listing_Website__c | https://www.forbesglobalproperties.com/listings/3-bedroom-house-in-lisson-grove |
| Site_Post_Id__c | 356601 |
| ffd_media | a:17:{i:0;s:88:"https://images.chestertons.co.uk/assets/r/chips/che/SJW/23/SJW230032_09-JPG-l-1600-0.jpg";i:1;s:88:"https://images.chestertons.co.uk/assets/r/chips/che/SJW/23/SJW230032_08-JPG-l-1600-0.jpg";i:2;s:88:"https://images.chestertons.co.uk/assets/r/chips/che/SJW/23/SJW230032_10-JPG-l-1600-0.jpg";i:3;s:88:"https://images.chestertons.co.uk/assets/r/chips/che/SJW/23/SJW230032_12-JPG-l-1600-0.jpg";i:4;s:88:"https://images.chestertons.co.uk/assets/r/chips/che/SJW/23/SJW230032_01-JPG-l-1600-0.jpg";i:5;s:88:"https://images.chestertons.co.uk/assets/r/chips/che/SJW/23/SJW230032_07-JPG-l-1600-0.jpg";i:6;s:88:"https://images.chestertons.co.uk/assets/r/chips/che/SJW/23/SJW230032_03-JPG-l-1600-0.jpg";i:7;s:88:"https://images.chestertons.co.uk/assets/r/chips/che/SJW/23/SJW230032_04-JPG-l-1600-0.jpg";i:8;s:88:"https://images.chestertons.co.uk/assets/r/chips/che/SJW/23/SJW230032_05-JPG-l-1600-0.jpg";i:9;s:88:"https://images.chestertons.co.uk/assets/r/chips/che/SJW/23/SJW230032_11-JPG-l-1600-0.jpg";i:10;s:88:"https://images.chestertons.co.uk/assets/r/chips/che/SJW/23/SJW230032_02-JPG-l-1600-0.jpg";i:11;s:88:"https://images.chestertons.co.uk/assets/r/chips/che/SJW/23/SJW230032_06-JPG-l-1600-0.jpg";i:12;s:88:"https://images.chestertons.co.uk/assets/r/chips/che/SJW/23/SJW230032_13-JPG-l-1600-0.jpg";i:13;s:88:"https://images.chestertons.co.uk/assets/r/chips/che/SJW/23/SJW230032_14-JPG-l-1600-0.jpg";i:14;s:88:"https://images.chestertons.co.uk/assets/r/chips/che/SJW/23/SJW230032_15-JPG-l-1600-0.jpg";i:15;s:88:"https://images.chestertons.co.uk/assets/r/chips/che/SJW/23/SJW230032_16-PNG-l-1600-0.jpg";i:16;s:88:"https://images.chestertons.co.uk/assets/r/chips/che/SJW/23/SJW230032_17-JPG-p-1600-0.jpg";} |
| _thumbnail_id | 356607 |
| ffd_featured_image | https://images.chestertons.co.uk/assets/r/chips/che/SJW/23/SJW230032_09-JPG-l-1600-0.jpg |
| agents | a:1:{i:0;s:6:"313255";} |
| ffd_record_is_deleted | |
| featured_images | 356607 |
| listing_images | a:17:{i:0;s:6:"356607";i:1;s:6:"356602";i:2;s:6:"356603";i:3;s:6:"356604";i:4;s:6:"356605";i:5;s:6:"356606";i:6;s:6:"356608";i:7;s:6:"356609";i:8;s:6:"356610";i:9;s:6:"356611";i:10;s:6:"356612";i:11;s:6:"356613";i:12;s:6:"356614";i:13;s:6:"356615";i:14;s:6:"356616";i:15;s:6:"356617";i:16;s:6:"356618";} |
| api_external_id | SJW230032 |
| post_member_id | 312441 |
| post_agent_id | 313255 |
| _sbi_oembed_done_checking | 1 |
3 bedroom house in Lisson Grove
GBP 3,495,000
(US $4,340,441)
Lyons Place, St John's Wood, NW8
Greater London, England, United Kingdom
Status: Active
Sole Agent. An opportunity to acquire a recently built 2,000 sq. ft. town house, moments away from both Little Venice and St John's Wood High Street.
The property has been interior designed to an immaculate standard throughout and comprises of a superb 23ft reception room leading onto a separate kitchen with state-of-the-art appliances which is open plan to a second reception/dining room. Both areas have sliding doors leading onto a secluded terrace.
The 1st floor consists of the principal bedroom suite with a large walk-in wardrobe, a good sized second bedroom with generous wardrobe space and a en-suite bathroom and bedroom three. There is also a fourth bedroom/study, utility room and a cloakroom on the ground floor.
The property further benefits from the development's concierge service, 2 unallocated underground parking spaces (via license), under floor heating, comfort cooling & air conditioning throughout.
Properties You Might Also Like
GBP 1,850,000
(US $2,297,515)
Greater London, England, United Kingdom
3 bedroom in Warwick Avenue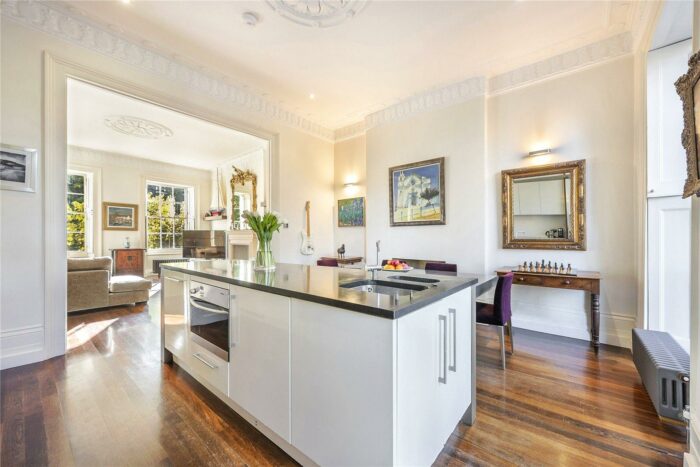 GBP 1,875,000
(US $2,328,563)
Greater London, England, United Kingdom
2 bedroom apartment in Paddington
This unique 3 Bedroom home with 3 Bathrooms is a prime example of the luxury real estate available in Greater London, England. You can visit our England search pages for more luxury real estate choices in Greater London.