| | |
| --- | --- |
| ffd_listing_title | 3 bedroom apartment in South Kensington |
| ffd_unique_id | |
| ffd_mls_id | |
| ffd_salesforce_id | a0E6g00000A4DabEAF |
| ffd_address_pb | Onslow Gardens, South Kensington, SW7 |
| address | Onslow Gardens, South Kensington, SW7 |
| baths | 2 |
| beds | 3 |
| ffd_city_pb | Greater London |
| ffd_colistingagent_pb | |
| ffd_colistingagentemail_pb | |
| ffd_colistingagentmlsid | |
| ffd_colistingagentname | |
| ffd_colistingofficemlsid | |
| ffd_colistingofficename_pb | |
| ffd_country_pb | United Kingdom |
| ffd_createddate | 2023-04-24T12:11:42.000+0000 |
| about | An outstanding three bedroom penthouse apartment on the fourth floor (with lift) of this beautifully maintained period building on Onslow Gardens, SW7. Highlights include: Impeccably refurnished throughout Lift access, Roof top views Well appointed kitchen breakfast room leading on the Two un-demised balconies Principle bedroom with en suite Communal garden access (STC) Onslow Gardens is a sought after address in the heart of South Kensington and is located moments from the many fashionable boutiques, bars and restaurants that Brompton Cross and South Kensington haveto offer. The nearest transport facilities are provided by South Kensington Underground station. For the motorist, there is easy access to the A4/M4 towards Heathrow and the West. |
| ffd_displayaddress | |
| floor | |
| ffd_halfbathrooms_pb | 0 |
| ffd_hide_address_on_site | |
| ffd_key_words | Greater London;United Kingdom;City;Greater London, England;Kensington and Chelsea England;City Greater London;City Kensington and Chelsea;Kensington and Chelsea;UK |
| ffd_lastmodifieddate | 2023-05-28T00:31:58.000+0000 |
| lat | 51.491646 |
| ffd_listofficemlsid | |
| ffd_listofficename | |
| ffd_listingagent_pb | 0036g00002ALrQ7AAL |
| ffd_listing_agent_email | |
| ffd_listing_agent_firstname | |
| ffd_listing_agent_lastname | |
| ffd_listingagentmlsid | |
| ffd_listingagentname | |
| ffd_listing_agent_website | https://www.chestertons.co.uk/en-gb/property-to-buy/gb/south+kensington/skn220149 |
| price | 3228940 |
| ffd_listingtype | Sale |
| location | Greater London, England, United Kingdom |
| lng | -0.177592 |
| sq_feet | 0 |
| ffd_non_member_paid | |
| ffd_other_currency_amount | 2600000 |
| ffd_other_currency_type | GBP |
| ffd_ownerid | 0056g000006m3d5AAA |
| ffd_pool_pb | |
| ffd_price_upon_request | |
| building_type | Apartment |
| ffd_id | a0E6g00000A4DabEAF |
| ffd_totalarea_pb | 1152 |
| ffd_solddate | |
| ffd_soldprice | |
| ffd_state_pb | England |
| ffd_status | Active |
| ffd_threequarterbathrooms | 0 |
| ffd_unit_of_measure | Square Feet |
| ffd_brokerage_id | 0016g00002KskJEAAZ |
| year_built | 0 |
| ffd_postalcode_pb | SW7 3PY |
| pba__WebsiteId__c | 349547 |
| pba__Listing_Website__c | https://www.forbesglobalproperties.com/listings/3-bedroom-apartment-in-south-kensington-2 |
| Site_Post_Id__c | 349547 |
| ffd_media | a:26:{i:0;s:88:"https://images.chestertons.co.uk/assets/r/chips/che/SKN/22/SKN220149_17-JPG-l-1600-0.jpg";i:1;s:88:"https://images.chestertons.co.uk/assets/r/chips/che/SKN/22/SKN220149_08-JPG-l-1600-0.jpg";i:2;s:88:"https://images.chestertons.co.uk/assets/r/chips/che/SKN/22/SKN220149_27-JPG-l-1600-0.jpg";i:3;s:88:"https://images.chestertons.co.uk/assets/r/chips/che/SKN/22/SKN220149_11-JPG-l-1600-0.jpg";i:4;s:88:"https://images.chestertons.co.uk/assets/r/chips/che/SKN/22/SKN220149_07-JPG-l-1600-0.jpg";i:5;s:88:"https://images.chestertons.co.uk/assets/r/chips/che/SKN/22/SKN220149_13-JPG-l-1600-0.jpg";i:6;s:88:"https://images.chestertons.co.uk/assets/r/chips/che/SKN/22/SKN220149_15-JPG-l-1600-0.jpg";i:7;s:88:"https://images.chestertons.co.uk/assets/r/chips/che/SKN/22/SKN220149_03-JPG-l-1600-0.jpg";i:8;s:88:"https://images.chestertons.co.uk/assets/r/chips/che/SKN/22/SKN220149_18-JPG-l-1600-0.jpg";i:9;s:88:"https://images.chestertons.co.uk/assets/r/chips/che/SKN/22/SKN220149_19-JPG-l-1600-0.jpg";i:10;s:88:"https://images.chestertons.co.uk/assets/r/chips/che/SKN/22/SKN220149_04-JPG-l-1600-0.jpg";i:11;s:88:"https://images.chestertons.co.uk/assets/r/chips/che/SKN/22/SKN220149_05-JPG-l-1600-0.jpg";i:12;s:88:"https://images.chestertons.co.uk/assets/r/chips/che/SKN/22/SKN220149_06-JPG-l-1600-0.jpg";i:13;s:88:"https://images.chestertons.co.uk/assets/r/chips/che/SKN/22/SKN220149_09-JPG-l-1600-0.jpg";i:14;s:88:"https://images.chestertons.co.uk/assets/r/chips/che/SKN/22/SKN220149_10-JPG-l-1600-0.jpg";i:15;s:88:"https://images.chestertons.co.uk/assets/r/chips/che/SKN/22/SKN220149_12-JPG-l-1600-0.jpg";i:16;s:88:"https://images.chestertons.co.uk/assets/r/chips/che/SKN/22/SKN220149_16-JPG-l-1600-0.jpg";i:17;s:88:"https://images.chestertons.co.uk/assets/r/chips/che/SKN/22/SKN220149_14-JPG-l-1600-0.jpg";i:18;s:88:"https://images.chestertons.co.uk/assets/r/chips/che/SKN/22/SKN220149_20-JPG-l-1600-0.jpg";i:19;s:88:"https://images.chestertons.co.uk/assets/r/chips/che/SKN/22/SKN220149_21-JPG-l-1600-0.jpg";i:20;s:88:"https://images.chestertons.co.uk/assets/r/chips/che/SKN/22/SKN220149_25-JPG-l-1600-0.jpg";i:21;s:88:"https://images.chestertons.co.uk/assets/r/chips/che/SKN/22/SKN220149_26-JPG-l-1600-0.jpg";i:22;s:88:"https://images.chestertons.co.uk/assets/r/chips/che/SKN/22/SKN220149_28-JPG-l-1600-0.jpg";i:23;s:88:"https://images.chestertons.co.uk/assets/r/chips/che/SKN/22/SKN220149_29-JPG-l-1600-0.jpg";i:24;s:88:"https://images.chestertons.co.uk/assets/r/chips/che/SKN/22/SKN220149_01-PNG-l-1600-0.jpg";i:25;s:88:"https://images.chestertons.co.uk/assets/r/chips/che/SKN/22/SKN220149_31-JPG-l-1600-0.jpg";} |
| _thumbnail_id | 349548 |
| ffd_featured_image | https://images.chestertons.co.uk/assets/r/chips/che/SKN/22/SKN220149_17-JPG-l-1600-0.jpg |
| agents | a:2:{i:0;s:6:"313250";i:1;N;} |
| ffd_record_is_deleted | |
| _wp_old_slug | 3-bedroom-flat-apartment-in-south-kensington-2 |
| featured_images | 349548 |
| listing_images | a:26:{i:0;s:6:"349548";i:1;s:6:"349550";i:2;s:6:"349549";i:3;s:6:"349551";i:4;s:6:"349552";i:5;s:6:"349553";i:6;s:6:"349554";i:7;s:6:"349555";i:8;s:6:"349556";i:9;s:6:"349557";i:10;s:6:"349558";i:11;s:6:"349559";i:12;s:6:"349560";i:13;s:6:"349561";i:14;s:6:"349562";i:15;s:6:"349563";i:16;s:6:"349565";i:17;s:6:"349564";i:18;s:6:"349567";i:19;s:6:"349566";i:20;s:6:"349568";i:21;s:6:"349569";i:22;s:6:"349570";i:23;s:6:"349571";i:24;s:6:"349572";i:25;s:6:"349573";} |
| api_external_id | SKN220149 |
| post_member_id | 312441 |
| post_agent_id | 313250 |
| _sbi_oembed_done_checking | 1 |
| postal_code | SW7 3PY |
| ffd_unitnumber | Flat 12 |
| county | Kensington and Chelsea |
| neighborhood | |
| listed_date | 2023-04-21 00:00:00.000000 |
| ffd_api_external_id | SKN220149 |
| post_coagent_id | |
| _listing_images | field_642ee01c5d170 |
3 bedroom apartment in South Kensington
GBP 2,600,000
(US $3,228,940)
Onslow Gardens, South Kensington, SW7
Greater London, England, SW7 3PY, United Kingdom
Status: Active
An outstanding three bedroom penthouse apartment on the fourth floor (with lift) of this beautifully maintained period building on Onslow Gardens, SW7.
Highlights include:
Impeccably refurnished throughout
Lift access,
Roof top views
Well appointed kitchen breakfast room leading on the
Two un-demised balconies
Principle bedroom with en suite
Communal garden access (STC)
Onslow Gardens is a sought after address in the heart of South Kensington and is located moments from the many fashionable boutiques, bars and restaurants that Brompton Cross and South Kensington haveto offer. The nearest transport facilities are provided by South Kensington Underground station. For the motorist, there is easy access to the A4/M4 towards Heathrow and the West.
Properties You Might Also Like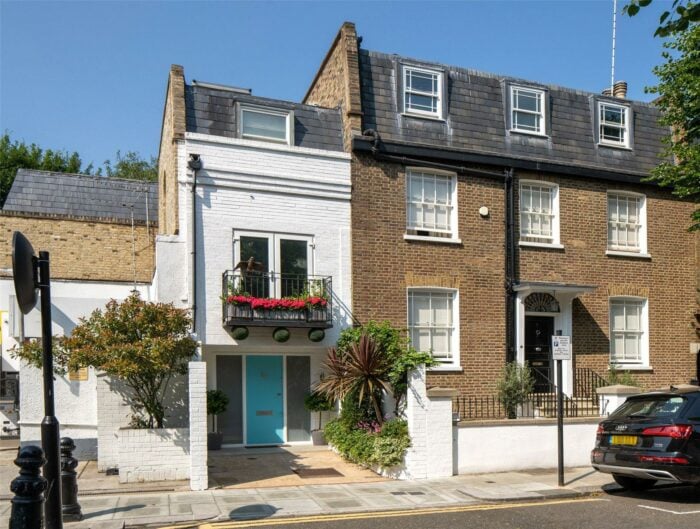 GBP 3,000,000
(US $3,725,700)
Greater London, England, United Kingdom
3 bedroom house in Queens Gate
GBP 3,450,000
(US $4,284,555)
Greater London, England, United Kingdom
2 bedroom apartment in Queens Gate
This unique 3 Bedroom home with 2 Bathrooms is a prime example of the luxury real estate available in Greater London, England. You can visit our England search pages for more luxury real estate choices in Greater London.