| | |
| --- | --- |
| ffd_listing_title | 3 bedroom apartment in Knightsbridge |
| ffd_unique_id | |
| ffd_mls_id | |
| ffd_salesforce_id | a0E6g00000A457xEAB |
| ffd_address_pb | Hans Place, Knightsbridge, SW1X |
| address | Hans Place, Knightsbridge, SW1X |
| baths | 3 |
| beds | 3 |
| ffd_city_pb | Greater London |
| ffd_colistingagent_pb | |
| ffd_colistingagentemail_pb | |
| ffd_colistingagentmlsid | |
| ffd_colistingagentname | |
| ffd_colistingofficemlsid | |
| ffd_colistingofficename_pb | |
| ffd_country_pb | United Kingdom |
| ffd_createddate | 2023-03-23T00:15:22.000+0000 |
| about | A beautifully refurbished lateral apartment with air-conditioning, occupying the third floor (with direct lift access) of this well-managed building with caretaker in the heart of Knightsbridge. Measuring approximately 1,100 sq ft, accommodation is generous and well planned, comprising a wonderful, open-plan reception room and kitchen with green views onto the garden square. The principal bedroom has an en-suite bathroom and there are two further double bedrooms (one with an en-suite shower room) and a guest bathroom. Hans Place is an elegant and historical garden square located between Brompton Road and Sloane Street, moments from Harrods and the luxury shopping, hotels and restaurants of Knightsbridge. |
| ffd_displayaddress | |
| floor | |
| ffd_halfbathrooms_pb | 0 |
| ffd_hide_address_on_site | |
| ffd_key_words | Greater London;United Kingdom;City;Greater London, England;Westminster England;City Greater London;City Westminster;Westminster;UK |
| ffd_lastmodifieddate | 2023-05-18T00:34:41.000+0000 |
| lat | 51.497533 |
| ffd_listofficemlsid | |
| ffd_listofficename | |
| ffd_listingagent_pb | 0036g00002ALrO6AAL |
| ffd_listing_agent_email | |
| ffd_listing_agent_firstname | |
| ffd_listing_agent_lastname | |
| ffd_listingagentmlsid | |
| ffd_listingagentname | |
| ffd_listing_agent_website | https://www.chestertons.co.uk/en-gb/property-to-buy/gb/knightsbridge/kbr230028 |
| price | 3974080 |
| ffd_listingtype | Sale |
| location | Greater London, England, United Kingdom |
| lng | -0.161492 |
| sq_feet | 0 |
| ffd_non_member_paid | |
| ffd_other_currency_amount | 3200000 |
| ffd_other_currency_type | GBP |
| ffd_ownerid | 0056g000006m3cqAAA |
| ffd_pool_pb | |
| ffd_price_upon_request | |
| building_type | Apartment |
| ffd_id | a0E6g00000A457xEAB |
| ffd_totalarea_pb | 1109 |
| ffd_solddate | |
| ffd_soldprice | |
| ffd_state_pb | England |
| ffd_status | Active |
| ffd_threequarterbathrooms | 0 |
| ffd_unit_of_measure | Square Feet |
| ffd_brokerage_id | 0016g00002KskJEAAZ |
| year_built | 0 |
| ffd_postalcode_pb | SW1X 0JY |
| pba__WebsiteId__c | 335152 |
| pba__Listing_Website__c | https://www.forbesglobalproperties.com/listings/3-bedroom-apartment-in-knightsbridge-2 |
| Site_Post_Id__c | 335152 |
| ffd_media | a:12:{i:0;s:88:"https://images.chestertons.co.uk/assets/r/chips/che/KBR/23/KBR230028_19-JPG-l-1600-0.jpg";i:1;s:88:"https://images.chestertons.co.uk/assets/r/chips/che/KBR/23/KBR230028_09-JPG-l-1600-0.jpg";i:2;s:88:"https://images.chestertons.co.uk/assets/r/chips/che/KBR/23/KBR230028_15-JPG-l-1600-0.jpg";i:3;s:88:"https://images.chestertons.co.uk/assets/r/chips/che/KBR/23/KBR230028_16-JPG-l-1600-0.jpg";i:4;s:88:"https://images.chestertons.co.uk/assets/r/chips/che/KBR/23/KBR230028_12-JPG-l-1600-0.jpg";i:5;s:88:"https://images.chestertons.co.uk/assets/r/chips/che/KBR/23/KBR230028_13-JPG-l-1600-0.jpg";i:6;s:88:"https://images.chestertons.co.uk/assets/r/chips/che/KBR/23/KBR230028_07-JPG-l-1600-0.jpg";i:7;s:88:"https://images.chestertons.co.uk/assets/r/chips/che/KBR/23/KBR230028_17-JPG-l-1600-0.jpg";i:8;s:88:"https://images.chestertons.co.uk/assets/r/chips/che/KBR/23/KBR230028_18-JPG-l-1600-0.jpg";i:9;s:88:"https://images.chestertons.co.uk/assets/r/chips/che/KBR/23/KBR230028_20-JPG-l-1600-0.jpg";i:10;s:88:"https://images.chestertons.co.uk/assets/r/chips/che/KBR/23/KBR230028_01-JPG-p-1600-0.jpg";i:11;s:88:"https://images.chestertons.co.uk/assets/r/chips/che/KBR/23/KBR230028_23-PNG-l-1600-0.jpg";} |
| _thumbnail_id | 335153 |
| ffd_featured_image | https://images.chestertons.co.uk/assets/r/chips/che/KBR/23/KBR230028_19-JPG-l-1600-0.jpg |
| agents | a:1:{i:0;s:6:"313263";} |
| ffd_record_is_deleted | |
| _wp_old_slug | 3-bedroom-flat-apartment-in-knightsbridge-3 |
| featured_images | 335153 |
| listing_images | a:12:{i:0;s:6:"335153";i:1;s:6:"335154";i:2;s:6:"335155";i:3;s:6:"335156";i:4;s:6:"335157";i:5;s:6:"335158";i:6;s:6:"335159";i:7;s:6:"335160";i:8;s:6:"335161";i:9;s:6:"335162";i:10;s:6:"335163";i:11;s:6:"342239";} |
| api_external_id | KBR230028 |
| post_member_id | 312441 |
| post_agent_id | 313263 |
| _sbi_oembed_done_checking | 1 |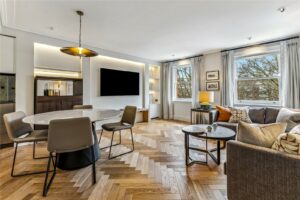 3 bedroom apartment in Knightsbridge
GBP 3,200,000
(US $3,974,080)
Hans Place, Knightsbridge, SW1X
Greater London, England, United Kingdom
Status: Active
A beautifully refurbished lateral apartment with air-conditioning, occupying the third floor (with direct lift access) of this well-managed building with caretaker in the heart of Knightsbridge.
Measuring approximately 1,100 sq ft, accommodation is generous and well planned, comprising a wonderful, open-plan reception room and kitchen with green views onto the garden square. The principal bedroom has an en-suite bathroom and there are two further double bedrooms (one with an en-suite shower room) and a guest bathroom.
Hans Place is an elegant and historical garden square located between Brompton Road and Sloane Street,
moments from Harrods and the luxury shopping, hotels and restaurants of Knightsbridge.
Properties You Might Also Like
GBP 13,500,000
(US $16,765,650)
Greater London, England, United Kingdom
7 bedroom house in Knightsbridge
GBP 1,695,000
(US $2,105,021)
Greater London, England, United Kingdom
2 bedroom apartment in Knightsbridge
This unique 3 Bedroom home with 3 Bathrooms is a prime example of the luxury real estate available in Greater London, England. You can visit our England search pages for more luxury real estate choices in Greater London.