| | |
| --- | --- |
| ffd_listing_title | 3 bedroom apartment in Connaught Village |
| ffd_unique_id | |
| ffd_mls_id | |
| ffd_salesforce_id | a0E6g00000A49cHEAR |
| ffd_address_pb | Falmouth House, Clarendon Place, W2 |
| address | Falmouth House, Clarendon Place, W2 |
| baths | 2 |
| beds | 3 |
| ffd_city_pb | Greater London |
| ffd_colistingagent_pb | |
| ffd_colistingagentemail_pb | |
| ffd_colistingagentmlsid | |
| ffd_colistingagentname | |
| ffd_colistingofficemlsid | |
| ffd_colistingofficename_pb | |
| ffd_country_pb | United Kingdom |
| ffd_createddate | 2023-04-06T00:31:21.000+0000 |
| about | Introducing a gem in the heart of London - a superb1346 sqft lateral apartment with breath-taking direct views of Hyde Park. Situated on the 3rd floor of a well-maintained building with a lift and porter, this south-facing property boasts a private balcony, perfect for soaking in the stunning park views. With 3 generously-sized bedrooms and 2 modern bathrooms, this property is perfect for families, those seeking a London pied a terre with ample space. The large reception-dining room is perfect for entertaining guests or relaxing in style, while the kitchen with its utility room and pantry is fully equipped for all your culinary needs. In excellent condition throughout, this property benefits from good natural light and has been designed to maximize the stunning park views. Located just a stone's throw away from Connaught Village, Paddington Station, Lancaster Gate Underground Station, and the West End, you will be spoilt for choice when it comes to entertainment, dining, and shopping options. |
| ffd_displayaddress | |
| floor | |
| ffd_halfbathrooms_pb | 0 |
| ffd_hide_address_on_site | |
| ffd_key_words | Greater London;United Kingdom;City;Greater London, England;Westminster England;City Greater London;City Westminster;Westminster;Connaught Village Greater London;UK |
| ffd_lastmodifieddate | 2023-05-28T00:31:11.000+0000 |
| lat | 51.512603 |
| ffd_listofficemlsid | |
| ffd_listofficename | |
| ffd_listingagent_pb | 0036g00002ALonDAAT |
| ffd_listing_agent_email | |
| ffd_listing_agent_firstname | |
| ffd_listing_agent_lastname | |
| ffd_listingagentmlsid | |
| ffd_listingagentname | |
| ffd_listing_agent_website | https://www.chestertons.co.uk/en-gb/property-to-buy/gb/connaught+village/hea224000 |
| price | 3104750 |
| ffd_listingtype | Sale |
| location | Greater London, England, United Kingdom |
| lng | -0.168502 |
| sq_feet | 0 |
| ffd_non_member_paid | |
| ffd_other_currency_amount | 2500000 |
| ffd_other_currency_type | GBP |
| ffd_ownerid | 0056g000006m3TAAAY |
| ffd_pool_pb | |
| ffd_price_upon_request | |
| building_type | Apartment |
| ffd_id | a0E6g00000A49cHEAR |
| ffd_totalarea_pb | 1346 |
| ffd_solddate | |
| ffd_soldprice | |
| ffd_state_pb | England |
| ffd_status | Active |
| ffd_threequarterbathrooms | 0 |
| ffd_unit_of_measure | Square Feet |
| ffd_brokerage_id | 0016g00002KskJEAAZ |
| year_built | 0 |
| ffd_postalcode_pb | W2 2NT |
| pba__WebsiteId__c | 342203 |
| pba__Listing_Website__c | https://www.forbesglobalproperties.com/listings/3-bedroom-apartment-in-connaught-village-2 |
| Site_Post_Id__c | 342203 |
| ffd_media | a:17:{i:0;s:88:"https://images.chestertons.co.uk/assets/r/chips/che/HEA/22/HEA224000_11-JPG-l-1600-0.jpg";i:1;s:88:"https://images.chestertons.co.uk/assets/r/chips/che/HEA/22/HEA224000_10-JPG-l-1600-0.jpg";i:2;s:88:"https://images.chestertons.co.uk/assets/r/chips/che/HEA/22/HEA224000_16-JPG-l-1600-0.jpg";i:3;s:88:"https://images.chestertons.co.uk/assets/r/chips/che/HEA/22/HEA224000_08-JPG-l-1600-0.jpg";i:4;s:88:"https://images.chestertons.co.uk/assets/r/chips/che/HEA/22/HEA224000_07-JPG-l-1600-0.jpg";i:5;s:88:"https://images.chestertons.co.uk/assets/r/chips/che/HEA/22/HEA224000_12-JPG-l-1600-0.jpg";i:6;s:88:"https://images.chestertons.co.uk/assets/r/chips/che/HEA/22/HEA224000_09-JPG-l-1600-0.jpg";i:7;s:88:"https://images.chestertons.co.uk/assets/r/chips/che/HEA/22/HEA224000_17-JPG-l-1600-0.jpg";i:8;s:88:"https://images.chestertons.co.uk/assets/r/chips/che/HEA/22/HEA224000_14-JPG-l-1600-0.jpg";i:9;s:88:"https://images.chestertons.co.uk/assets/r/chips/che/HEA/22/HEA224000_04-JPG-l-1600-0.jpg";i:10;s:88:"https://images.chestertons.co.uk/assets/r/chips/che/HEA/22/HEA224000_03-JPG-l-1600-0.jpg";i:11;s:88:"https://images.chestertons.co.uk/assets/r/chips/che/HEA/22/HEA224000_15-JPG-l-1600-0.jpg";i:12;s:88:"https://images.chestertons.co.uk/assets/r/chips/che/HEA/22/HEA224000_13-JPG-l-1600-0.jpg";i:13;s:88:"https://images.chestertons.co.uk/assets/r/chips/che/HEA/22/HEA224000_01-JPG-l-1600-0.jpg";i:14;s:88:"https://images.chestertons.co.uk/assets/r/chips/che/HEA/22/HEA224000_06-JPG-l-1600-0.jpg";i:15;s:88:"https://images.chestertons.co.uk/assets/r/chips/che/HEA/22/HEA224000_18-JPG-p-1600-0.jpg";i:16;s:88:"https://images.chestertons.co.uk/assets/r/chips/che/HEA/22/HEA224000_19-PNG-l-1600-0.jpg";} |
| _thumbnail_id | 342204 |
| ffd_featured_image | https://images.chestertons.co.uk/assets/r/chips/che/HEA/22/HEA224000_11-JPG-l-1600-0.jpg |
| agents | a:2:{i:0;s:6:"313204";i:1;N;} |
| _wp_old_date | 2023-04-07 |
| ffd_record_is_deleted | |
| _wp_old_slug | 3-bedroom-flat-apartment-in-connaught-village-3 |
| featured_images | 342204 |
| listing_images | a:17:{i:0;s:6:"342204";i:1;s:6:"342207";i:2;s:6:"342205";i:3;s:6:"342206";i:4;s:6:"342208";i:5;s:6:"342209";i:6;s:6:"342210";i:7;s:6:"342211";i:8;s:6:"342212";i:9;s:6:"342213";i:10;s:6:"342214";i:11;s:6:"342215";i:12;s:6:"342216";i:13;s:6:"342217";i:14;s:6:"342218";i:15;s:6:"342219";i:16;s:6:"342220";} |
| api_external_id | HEA224000 |
| post_member_id | 312441 |
| post_agent_id | 313204 |
| _sbi_oembed_done_checking | 1 |
| postal_code | W2 2NT |
| ffd_unitnumber | Flat 31 |
| county | Westminster |
| neighborhood | Connaught Village |
| listed_date | 2023-04-05 00:00:00.000000 |
| ffd_api_external_id | HEA224000 |
| post_coagent_id | |
| _listing_images | field_642ee01c5d170 |
3 bedroom apartment in Connaught Village
GBP 2,500,000
(US $3,104,750)
Falmouth House, Clarendon Place, W2
Greater London, England, W2 2NT, United Kingdom
Status: Active
Introducing a gem in the heart of London – a superb1346 sqft lateral apartment with breath-taking direct views of Hyde Park. Situated on the 3rd floor of a well-maintained building with a lift and porter, this south-facing property boasts a private balcony, perfect for soaking in the stunning park views.
With 3 generously-sized bedrooms and 2 modern bathrooms, this property is perfect for families, those seeking a London pied a terre with ample space. The large reception-dining room is perfect for entertaining guests or relaxing in style, while the kitchen with its utility room and pantry is fully equipped for all your culinary needs.
In excellent condition throughout, this property benefits from good natural light and has been designed to maximize the stunning park views. Located just a stone's throw away from Connaught Village, Paddington Station, Lancaster Gate Underground Station, and the West End, you will be spoilt for choice when it comes to entertainment, dining, and shopping options.
Properties You Might Also Like
GBP 2,250,000
(US $2,794,275)
Greater London, England, United Kingdom
4 bedroom house in Connaught Village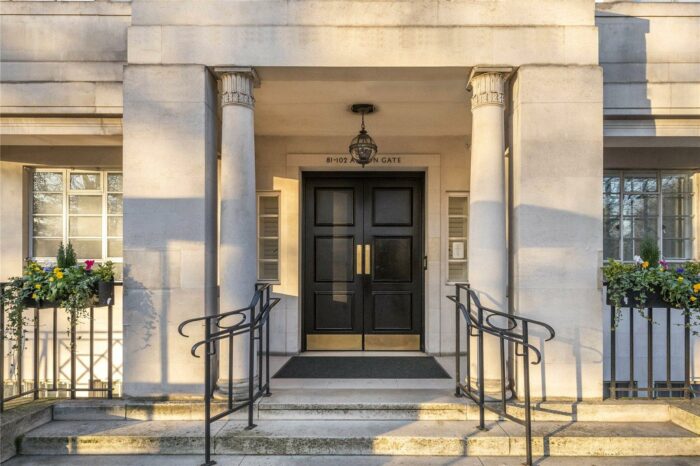 GBP 1,750,000
(US $2,173,325)
Greater London, England, United Kingdom
2 bedroom apartment in Albion Gate
This unique 3 Bedroom home with 2 Bathrooms is a prime example of the luxury real estate available in Greater London, England. You can visit our England search pages for more luxury real estate choices in Greater London.