| | |
| --- | --- |
| ffd_listing_title | 2 bedroom flat/apartment near Battersea Power Station |
| ffd_unique_id | |
| ffd_mls_id | |
| ffd_salesforce_id | a0E6g00000BGCMeEAP |
| ffd_address_pb | Eustace Building, 372 Queenstown Road, SW11 |
| address | Eustace Building, 372 Queenstown Road, SW11 |
| baths | 2 |
| beds | 2 |
| ffd_city_pb | Greater London |
| ffd_colistingagent_pb | |
| ffd_colistingagentemail_pb | |
| ffd_colistingagentmlsid | |
| ffd_colistingagentname | |
| ffd_colistingofficemlsid | |
| ffd_colistingofficename_pb | |
| ffd_country_pb | United Kingdom |
| ffd_createddate | 2023-05-23T21:26:20.000+0000 |
| about | This beautiful River & Park facing two bedroom penthouse apartment at Chelsea Bridge Wharf has stunning West facing views across London. The property comes with a large spacious living/dining area with a fully equipped open plan kitchen and has double height ceilings which give a real sense of space and grandeur. The Master bedroom benefits from a large built in wardrobe and en-suite bathroom. Second bedroom is of a generous size with a separate bathroom. Furthermore, there is 'Comfort cooling' and good storage space throughout. The property has a private balcony off the master bedroom with views of the Battersea Power Station and then a Roof Terrace off the living space with fantastic West facing views over Battersea Park. Cheslsea Bridge Wharf is a popular & renowned development which benefits from 24hr concierge, water gardens and on site amenities. Chelsea and Sloane Square are a short walk away over Chelsea Bridge and the Iconic Battersea Power Station offers phenomenal amenities including a number of bars and restaurants as well as a shopping centre. Battersea Park overground, the Northern line and the Thames clipper also afford superb transport links. |
| ffd_displayaddress | |
| floor | |
| ffd_halfbathrooms_pb | 0 |
| ffd_hide_address_on_site | |
| ffd_key_words | Greater London;United Kingdom;City;Greater London, England;London Borough of Wandsworth England;City Greater London;City London Borough of Wandsworth;London Borough of Wandsworth;Battersea Power Station Greater London;UK |
| ffd_lastmodifieddate | 2023-05-28T00:24:15.000+0000 |
| lat | 51.481972 |
| ffd_listofficemlsid | |
| ffd_listofficename | |
| ffd_listingagent_pb | 0036g00002AMG81AAH |
| ffd_listing_agent_email | |
| ffd_listing_agent_firstname | |
| ffd_listing_agent_lastname | |
| ffd_listingagentmlsid | |
| ffd_listingagentname | |
| ffd_listing_agent_website | https://www.chestertons.co.uk/en-gb/property-to-buy/gb/battersea+power+station/hea232898 |
| price | 2111230 |
| ffd_listingtype | Sale |
| location | Greater London, England, United Kingdom |
| lng | -0.148933 |
| sq_feet | 0 |
| ffd_non_member_paid | |
| ffd_other_currency_amount | 1700000 |
| ffd_other_currency_type | GBP |
| ffd_ownerid | 0056g000006m6mBAAQ |
| ffd_pool_pb | |
| ffd_price_upon_request | |
| building_type | Apartment |
| ffd_id | a0E6g00000BGCMeEAP |
| ffd_totalarea_pb | 0 |
| ffd_solddate | |
| ffd_soldprice | |
| ffd_state_pb | England |
| ffd_status | Active |
| ffd_threequarterbathrooms | 0 |
| ffd_unit_of_measure | Square Feet |
| ffd_brokerage_id | 0016g00002KskJEAAZ |
| year_built | 0 |
| ffd_postalcode_pb | SW11 8NT |
| pba__WebsiteId__c | 367467 |
| pba__Listing_Website__c | https://www.forbesglobalproperties.com/listings/2-bedroom-flat-apartment-near-battersea-power-station |
| Site_Post_Id__c | 367467 |
| ffd_media | a:24:{i:0;s:88:"https://images.chestertons.co.uk/assets/r/chips/che/HEA/23/HEA232898_03-JPG-l-1600-0.jpg";i:1;s:88:"https://images.chestertons.co.uk/assets/r/chips/che/HEA/23/HEA232898_16-JPG-l-1600-0.jpg";i:2;s:88:"https://images.chestertons.co.uk/assets/r/chips/che/HEA/23/HEA232898_01-JPG-l-1600-0.jpg";i:3;s:88:"https://images.chestertons.co.uk/assets/r/chips/che/HEA/23/HEA232898_18-JPG-l-1600-0.jpg";i:4;s:88:"https://images.chestertons.co.uk/assets/r/chips/che/HEA/23/HEA232898_06-JPG-l-1600-0.jpg";i:5;s:88:"https://images.chestertons.co.uk/assets/r/chips/che/HEA/23/HEA232898_09-JPG-l-1600-0.jpg";i:6;s:88:"https://images.chestertons.co.uk/assets/r/chips/che/HEA/23/HEA232898_02-JPG-l-1600-0.jpg";i:7;s:88:"https://images.chestertons.co.uk/assets/r/chips/che/HEA/23/HEA232898_04-JPG-l-1600-0.jpg";i:8;s:88:"https://images.chestertons.co.uk/assets/r/chips/che/HEA/23/HEA232898_12-JPG-l-1600-0.jpg";i:9;s:88:"https://images.chestertons.co.uk/assets/r/chips/che/HEA/23/HEA232898_05-JPG-l-1600-0.jpg";i:10;s:88:"https://images.chestertons.co.uk/assets/r/chips/che/HEA/23/HEA232898_07-JPG-l-1600-0.jpg";i:11;s:88:"https://images.chestertons.co.uk/assets/r/chips/che/HEA/23/HEA232898_08-JPG-l-1600-0.jpg";i:12;s:88:"https://images.chestertons.co.uk/assets/r/chips/che/HEA/23/HEA232898_13-JPG-l-1600-0.jpg";i:13;s:88:"https://images.chestertons.co.uk/assets/r/chips/che/HEA/23/HEA232898_14-JPG-l-1600-0.jpg";i:14;s:88:"https://images.chestertons.co.uk/assets/r/chips/che/HEA/23/HEA232898_17-JPG-l-1600-0.jpg";i:15;s:88:"https://images.chestertons.co.uk/assets/r/chips/che/HEA/23/HEA232898_15-JPG-l-1600-0.jpg";i:16;s:88:"https://images.chestertons.co.uk/assets/r/chips/che/HEA/23/HEA232898_19-JPG-l-1600-0.jpg";i:17;s:88:"https://images.chestertons.co.uk/assets/r/chips/che/HEA/23/HEA232898_20-JPG-l-1600-0.jpg";i:18;s:88:"https://images.chestertons.co.uk/assets/r/chips/che/HEA/23/HEA232898_21-JPG-l-1600-0.jpg";i:19;s:88:"https://images.chestertons.co.uk/assets/r/chips/che/HEA/23/HEA232898_22-JPG-l-1600-0.jpg";i:20;s:88:"https://images.chestertons.co.uk/assets/r/chips/che/HEA/23/HEA232898_23-JPG-l-1600-0.jpg";i:21;s:88:"https://images.chestertons.co.uk/assets/r/chips/che/HEA/23/HEA232898_24-JPG-l-1600-0.jpg";i:22;s:88:"https://images.chestertons.co.uk/assets/r/chips/che/HEA/23/HEA232898_25-PNG-l-1600-0.jpg";i:23;s:88:"https://images.chestertons.co.uk/assets/r/chips/che/HEA/23/HEA232898_26-JPG-l-1600-0.jpg";} |
| _thumbnail_id | 367468 |
| ffd_featured_image | https://images.chestertons.co.uk/assets/r/chips/che/HEA/23/HEA232898_03-JPG-l-1600-0.jpg |
| agents | a:2:{i:0;s:6:"318586";i:1;N;} |
| _wp_old_date | 2023-05-24 |
| ffd_record_is_deleted | |
| featured_images | 367468 |
| listing_images | a:24:{i:0;s:6:"367468";i:1;s:6:"367469";i:2;s:6:"367470";i:3;s:6:"367471";i:4;s:6:"367472";i:5;s:6:"367473";i:6;s:6:"367474";i:7;s:6:"367475";i:8;s:6:"367476";i:9;s:6:"367477";i:10;s:6:"367478";i:11;s:6:"367479";i:12;s:6:"367480";i:13;s:6:"367481";i:14;s:6:"367482";i:15;s:6:"367483";i:16;s:6:"367484";i:17;s:6:"367485";i:18;s:6:"367486";i:19;s:6:"367487";i:20;s:6:"367488";i:21;s:6:"367489";i:22;s:6:"367490";i:23;s:6:"367491";} |
| api_external_id | HEA232898 |
| post_member_id | 312441 |
| post_agent_id | 318586 |
| _sbi_oembed_done_checking | 1 |
| postal_code | SW11 8NT |
| ffd_unitnumber | Apartment 47 |
| county | London Borough of Wandsworth |
| neighborhood | Battersea Power Station |
| listed_date | 2023-04-24 00:00:00.000000 |
| ffd_api_external_id | HEA232898 |
| post_coagent_id | |
| _listing_images | field_642ee01c5d170 |
2 bedroom flat/apartment near Battersea Power Station
GBP 1,700,000
(US $2,111,230)
Eustace Building, 372 Queenstown Road, SW11
Greater London, England, SW11 8NT, United Kingdom
Status: Active
This beautiful River & Park facing two bedroom penthouse apartment at Chelsea Bridge Wharf has stunning West facing views across London.
The property comes with a large spacious living/dining area with a fully equipped open plan kitchen and has double height ceilings which give a real sense of space and grandeur. The Master bedroom benefits from a large built in wardrobe and en-suite bathroom. Second bedroom is of a generous size with a separate bathroom. Furthermore, there is 'Comfort cooling' and good storage space throughout.
The property has a private balcony off the master bedroom with views of the Battersea Power Station and then a Roof Terrace off the living space with fantastic West facing views over Battersea Park.
Cheslsea Bridge Wharf is a popular & renowned development which benefits from 24hr concierge, water gardens and on site amenities.
Chelsea and Sloane Square are a short walk away over Chelsea Bridge and the Iconic Battersea Power Station offers phenomenal amenities including a number of bars and restaurants as well as a shopping centre. Battersea Park overground, the Northern line and the Thames clipper also afford superb transport links.
Properties You Might Also Like
GBP 4,250,000
(US $5,278,075)
Greater London, England, United Kingdom
3 bedroom apartment near Battersea Power Station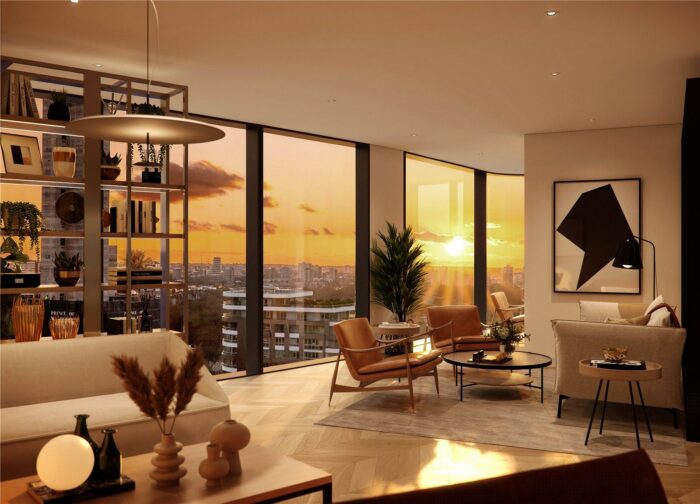 GBP 6,950,000
(US $8,631,205)
Greater London, England, United Kingdom
Battersea Power Station
This unique 2 Bedroom home with 2 Bathrooms is a prime example of the luxury real estate available in Greater London, England. You can visit our England search pages for more luxury real estate choices in Greater London.