| | |
| --- | --- |
| ffd_listing_title | 2 bedroom Flat/Apartment in Wandsworth, SW18 |
| ffd_unique_id | |
| ffd_mls_id | |
| ffd_salesforce_id | a0E6g00000A3wycEAB |
| ffd_address_pb | Mandel House, Eastfields Avenue, SW18 |
| address | Mandel House, Eastfields Avenue, SW18 |
| baths | 2 |
| beds | 2 |
| ffd_city_pb | Greater London |
| ffd_colistingagent_pb | |
| ffd_colistingagentemail_pb | |
| ffd_colistingagentmlsid | |
| ffd_colistingagentname | |
| ffd_colistingofficemlsid | |
| ffd_colistingofficename_pb | |
| ffd_country_pb | United Kingdom |
| ffd_createddate | 2023-02-15T08:50:54.000+0000 |
| about | A stunning second floor, two bedroom modern apartment set with direct views onto the River Thames. Offering over 1250 sq ft of accommodation and a high quality finish throughout. Benefits include underground parking, air cooling system, underfloor heating and two outdoor areas. This apartment is set with views reaching out across to the Hurlingham Club, Putney and Wandsworth Bridge. You enter into a large hallway with storage ample cupboards, master bedroom with built in wardrobes, second bedroom again with built in wardrobes and then the family bathroom. The living area has a fantastic island breakfast bar that is facing directly at the river, dining area and large tv area leading onto the large balcony area looking over the river Thames. Located ideally for Wandsworth and Putney transport links and shops you are well positioned in an excellent vibrant area with a luxury lifestyle surrounding. The property further benefits from 24 hour residents concierge, swimming pool, sauna, gymnasium and a dedicated residents shuttle bus to and from Putney & East Putney stations during commuting hours. |
| ffd_displayaddress | |
| floor | |
| ffd_halfbathrooms_pb | 0 |
| ffd_hide_address_on_site | |
| ffd_key_words | Greater London;United Kingdom;City;Greater London, England;London Borough of Wandsworth England;City Greater London;City London Borough of Wandsworth;London Borough of Wandsworth;UK |
| ffd_lastmodifieddate | 2023-03-23T10:34:26.000+0000 |
| lat | 51.462671 |
| ffd_listofficemlsid | |
| ffd_listofficename | |
| ffd_listingagent_pb | 0036g00002AM6pnAAD |
| ffd_listing_agent_email | |
| ffd_listing_agent_firstname | |
| ffd_listing_agent_lastname | |
| ffd_listingagentmlsid | |
| ffd_listingagentname | |
| ffd_listing_agent_website | https://www.chestertons.co.uk/en-gb/property-to-buy/gb/wandsworth%2C+sw18/wdw230012 |
| price | 1800346 |
| ffd_listingtype | Sale |
| location | Greater London, England, United Kingdom |
| lng | -0.196684 |
| sq_feet | 0 |
| ffd_non_member_paid | |
| ffd_other_currency_amount | 1700000 |
| ffd_other_currency_type | GBP |
| ffd_ownerid | 0056g000006m29xAAA |
| ffd_pool_pb | |
| ffd_price_upon_request | |
| building_type | Apartment |
| ffd_id | a0E6g00000A3wycEAB |
| ffd_totalarea_pb | 0 |
| ffd_solddate | |
| ffd_soldprice | |
| ffd_state_pb | England |
| ffd_status | Active |
| ffd_threequarterbathrooms | 0 |
| ffd_unit_of_measure | Square Feet |
| ffd_brokerage_id | 0016g00002KskJEAAZ |
| year_built | 0 |
| ffd_postalcode_pb | SW18 1JU |
| pba__WebsiteId__c | 320174 |
| pba__Listing_Website__c | https://www.forbesglobalproperties.com/listings/2-bedroom-flat-apartment-in-wandsworth-sw18 |
| Site_Post_Id__c | 320174 |
| ffd_media | a:16:{i:0;s:88:"https://images.chestertons.co.uk/assets/r/chips/che/WDW/23/WDW230012_09-JPG-l-1600-0.jpg";i:1;s:88:"https://images.chestertons.co.uk/assets/r/chips/che/WDW/23/WDW230012_14-JPG-l-1600-0.jpg";i:2;s:88:"https://images.chestertons.co.uk/assets/r/chips/che/WDW/23/WDW230012_02-JPG-l-1600-0.jpg";i:3;s:88:"https://images.chestertons.co.uk/assets/r/chips/che/WDW/23/WDW230012_06-JPG-l-1600-0.jpg";i:4;s:88:"https://images.chestertons.co.uk/assets/r/chips/che/WDW/23/WDW230012_01-JPG-l-1600-0.jpg";i:5;s:88:"https://images.chestertons.co.uk/assets/r/chips/che/WDW/23/WDW230012_08-JPG-l-1600-0.jpg";i:6;s:88:"https://images.chestertons.co.uk/assets/r/chips/che/WDW/23/WDW230012_03-JPG-l-1600-0.jpg";i:7;s:88:"https://images.chestertons.co.uk/assets/r/chips/che/WDW/23/WDW230012_04-JPG-l-1600-0.jpg";i:8;s:88:"https://images.chestertons.co.uk/assets/r/chips/che/WDW/23/WDW230012_10-JPG-l-1600-0.jpg";i:9;s:88:"https://images.chestertons.co.uk/assets/r/chips/che/WDW/23/WDW230012_07-JPG-l-1600-0.jpg";i:10;s:88:"https://images.chestertons.co.uk/assets/r/chips/che/WDW/23/WDW230012_12-JPG-l-1600-0.jpg";i:11;s:88:"https://images.chestertons.co.uk/assets/r/chips/che/WDW/23/WDW230012_13-JPG-l-1600-0.jpg";i:12;s:88:"https://images.chestertons.co.uk/assets/r/chips/che/WDW/23/WDW230012_15-JPG-l-1600-0.jpg";i:13;s:88:"https://images.chestertons.co.uk/assets/r/chips/che/WDW/23/WDW230012_16-JPG-l-1600-0.jpg";i:14;s:88:"https://images.chestertons.co.uk/assets/r/chips/che/WDW/23/WDW230012_17-JPG-p-1600-0.jpg";i:15;s:88:"https://images.chestertons.co.uk/assets/r/chips/che/WDW/23/WDW230012_18-PNG-l-1600-0.jpg";} |
| _thumbnail_id | 320175 |
| ffd_featured_image | https://images.chestertons.co.uk/assets/r/chips/che/WDW/23/WDW230012_09-JPG-l-1600-0.jpg |
| agents | a:1:{i:0;s:6:"315695";} |
| _wp_old_date | 2023-02-17 |
| ffd_record_is_deleted | |
| _wp_old_slug | 2-bedroom-flat-apartment-in-mandel-house |
| featured_images | 320175 |
| primary_media_0_image | 320175 |
| _primary_media_0_image | field_5f988067abcc4 |
| primary_media_0_video | |
| _primary_media_0_video | field_5f98807dabcc5 |
| primary_media_1_image | 320176 |
| _primary_media_1_image | field_5f988067abcc4 |
| primary_media_1_video | |
| _primary_media_1_video | field_5f98807dabcc5 |
| primary_media_2_image | 320177 |
| _primary_media_2_image | field_5f988067abcc4 |
| primary_media_2_video | |
| _primary_media_2_video | field_5f98807dabcc5 |
| primary_media | 3 |
| _primary_media | field_5f98805cabcc3 |
| secondary_media_0_image | 320185 |
| _secondary_media_0_image | field_5f988119a39fd |
| secondary_media_0_video | |
| _secondary_media_0_video | field_5f988119a39fe |
| secondary_media_1_image | 320186 |
| _secondary_media_1_image | field_5f988119a39fd |
| secondary_media_1_video | |
| _secondary_media_1_video | field_5f988119a39fe |
| secondary_media_2_image | 320181 |
| _secondary_media_2_image | field_5f988119a39fd |
| secondary_media_2_video | |
| _secondary_media_2_video | field_5f988119a39fe |
| secondary_media_3_image | 320178 |
| _secondary_media_3_image | field_5f988119a39fd |
| secondary_media_3_video | |
| _secondary_media_3_video | field_5f988119a39fe |
| secondary_media_4_image | 320182 |
| _secondary_media_4_image | field_5f988119a39fd |
| secondary_media_4_video | |
| _secondary_media_4_video | field_5f988119a39fe |
| secondary_media_5_image | 320183 |
| _secondary_media_5_image | field_5f988119a39fd |
| secondary_media_5_video | |
| _secondary_media_5_video | field_5f988119a39fe |
| secondary_media_6_image | 320184 |
| _secondary_media_6_image | field_5f988119a39fd |
| secondary_media_6_video | |
| _secondary_media_6_video | field_5f988119a39fe |
| secondary_media_7_image | 320188 |
| _secondary_media_7_image | field_5f988119a39fd |
| secondary_media_7_video | |
| _secondary_media_7_video | field_5f988119a39fe |
| secondary_media_8_image | 320189 |
| _secondary_media_8_image | field_5f988119a39fd |
| secondary_media_8_video | |
| _secondary_media_8_video | field_5f988119a39fe |
| secondary_media_9_image | 320190 |
| _secondary_media_9_image | field_5f988119a39fd |
| secondary_media_9_video | |
| _secondary_media_9_video | field_5f988119a39fe |
| secondary_media | 10 |
| _secondary_media | field_5f988119a39fc |
2 bedroom Flat/Apartment in Wandsworth, SW18
GBP 1,700,000
(US $1,800,346)
Mandel House, Eastfields Avenue, SW18
Greater London, England, United Kingdom
Status: Active
A stunning second floor, two bedroom modern apartment set with direct views onto the River Thames. Offering over 1250 sq ft of accommodation and a high quality finish throughout. Benefits include underground parking, air cooling system, underfloor heating and two outdoor areas. This apartment is set with views reaching out across to the Hurlingham Club, Putney and Wandsworth Bridge. You enter into a large hallway with storage ample cupboards, master bedroom with built in wardrobes, second bedroom again with built in wardrobes and then the family bathroom. The living area has a fantastic island breakfast bar that is facing directly at the river, dining area and large tv area leading onto the large balcony area looking over the river Thames. Located ideally for Wandsworth and Putney transport links and shops you are well positioned in an excellent vibrant area with a luxury lifestyle surrounding. The property further benefits from 24 hour residents concierge, swimming pool, sauna, gymnasium and a dedicated residents shuttle bus to and from Putney & East Putney stations during commuting hours.
Properties You Might Also Like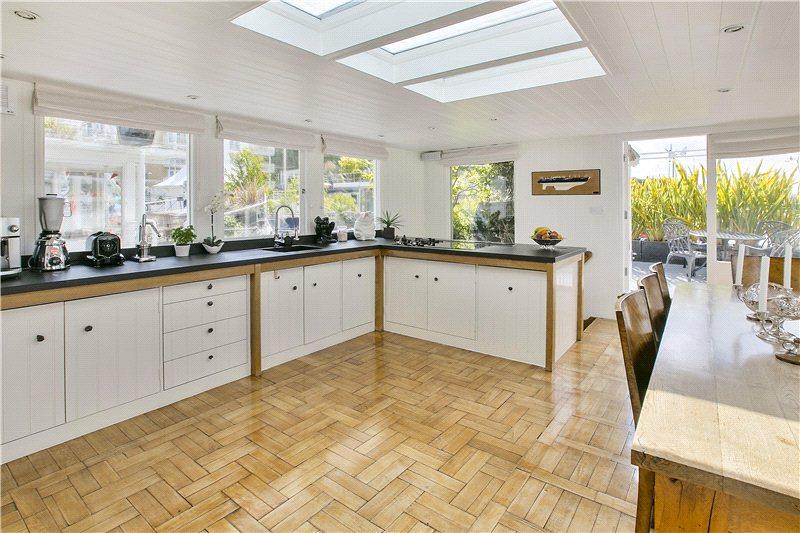 GBP 1,750,000
(US $1,853,297)
Greater London, England, United Kingdom
3 bedroom House in Lightermans Walk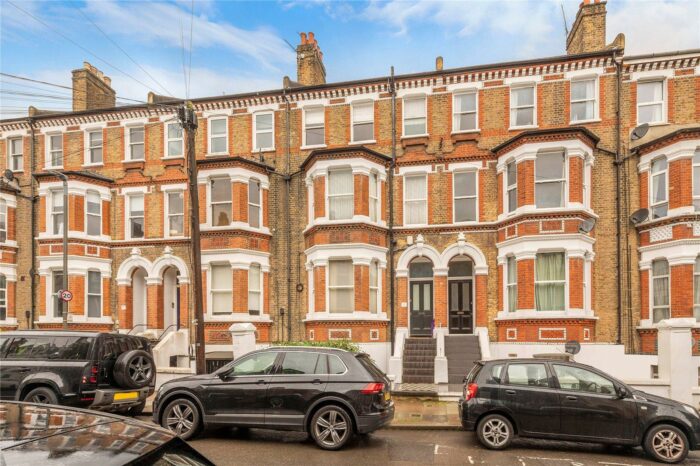 GBP 2,300,000
(US $2,435,762)
Greater London, England, United Kingdom
5 bedroom House in East Putney
This unique 2 Bedroom home with 2 Bathrooms is a prime example of the luxury real estate available in Greater London, England. You can visit our England search pages for more luxury real estate choices in Greater London.