| | |
| --- | --- |
| ffd_listing_title | 2 bedroom Flat/Apartment in The South Bank, London |
| ffd_unique_id | |
| ffd_mls_id | |
| ffd_salesforce_id | a0E6g00000A3wDREAZ |
| ffd_address_pb | Belvedere Road, Borough, SE1 |
| address | Belvedere Road, Borough, SE1 |
| baths | 3 |
| beds | 2 |
| ffd_city_pb | Greater London |
| ffd_colistingagent_pb | |
| ffd_colistingagentemail_pb | |
| ffd_colistingagentmlsid | |
| ffd_colistingagentname | |
| ffd_colistingofficemlsid | |
| ffd_colistingofficename_pb | |
| ffd_country_pb | United Kingdom |
| ffd_createddate | 2023-02-11T10:38:12.000+0000 |
| about | Remarkable two-bedroom, river facing apartment at Belvedere Gardens, a prestigious building of outstanding architectural merit. This luxury apartment offers 1,450 square feet, two bedrooms, generous living areas and a balcony with iconic views of the London Eye. The classical proportions of the rooms and the floor to ceiling windows accentuate the unquestionable character and rarity of the apartments. The property also benefits from a bespoke marble-topped kitchen with high quality integrated Miele appliances and the three luxurious bathrooms are finished with polished stone and high specification fittings. Other features include underfloor heating, air-cooling system, cutting-edge smart home technology plus contemporary and timeless interiors. Luxury facilities include a 24-hour concierge and a hotel style reception. These exceptional apartments and penthouses set new standards of riverside living, with stunning views over the Jubilee Gardens and across the River Thames to Westminster and the City of London. This truly spectacular property is located on the second floor of the Belvedere Gardens development and has its own private custom designed health centre and spa in addition to an exclusive residents' lounge, entertainment area and terrace. The address is in the heart of London's vibrant Southbank area, one of London's best-connected locations, just a few minutes' walk from Waterloo National and Underground Stations. |
| ffd_displayaddress | |
| floor | |
| ffd_halfbathrooms_pb | 0 |
| ffd_hide_address_on_site | |
| ffd_key_words | Greater London;United Kingdom;City;Greater London, England;Southwark England;City Greater London;City Southwark;Southwark;The South Bank, London Greater London;UK |
| ffd_lastmodifieddate | 2023-03-23T00:10:22.000+0000 |
| lat | 51.503139 |
| ffd_listofficemlsid | |
| ffd_listofficename | |
| ffd_listingagent_pb | 0036g00002ALrSDAA1 |
| ffd_listing_agent_email | |
| ffd_listing_agent_firstname | |
| ffd_listing_agent_lastname | |
| ffd_listingagentmlsid | |
| ffd_listingagentname | |
| ffd_listing_agent_website | https://www.chestertons.co.uk/en-gb/property-to-buy/gb/south+bank/tbr220144 |
| price | 2435762 |
| ffd_listingtype | Sale |
| location | Greater London, England, United Kingdom |
| lng | -0.117251 |
| sq_feet | 0 |
| ffd_non_member_paid | |
| ffd_other_currency_amount | 2300000 |
| ffd_other_currency_type | GBP |
| ffd_ownerid | 0056g000006m3dFAAQ |
| ffd_pool_pb | |
| ffd_price_upon_request | |
| building_type | Apartment |
| ffd_id | a0E6g00000A3wDREAZ |
| ffd_totalarea_pb | 0 |
| ffd_solddate | |
| ffd_soldprice | |
| ffd_state_pb | England |
| ffd_status | Under Contract |
| ffd_threequarterbathrooms | 0 |
| ffd_unit_of_measure | Square Feet |
| ffd_brokerage_id | 0016g00002KskJEAAZ |
| year_built | 0 |
| ffd_postalcode_pb | SE1 7AF |
| pba__WebsiteId__c | 314953 |
| pba__Listing_Website__c | https://www.forbesglobalproperties.com/listings/2-bedroom-flat-apartment-in-the-south-bank-london |
| Site_Post_Id__c | 314953 |
| ffd_media | a:16:{i:0;s:88:"https://images.chestertons.co.uk/assets/r/chips/che/TBR/22/TBR220144_22-JPG-l-1600-0.jpg";i:1;s:88:"https://images.chestertons.co.uk/assets/r/chips/che/TBR/22/TBR220144_25-JPG-l-1600-0.jpg";i:2;s:88:"https://images.chestertons.co.uk/assets/r/chips/che/TBR/22/TBR220144_08-JPG-l-1600-0.jpg";i:3;s:88:"https://images.chestertons.co.uk/assets/r/chips/che/TBR/22/TBR220144_23-JPG-l-1600-0.jpg";i:4;s:88:"https://images.chestertons.co.uk/assets/r/chips/che/TBR/22/TBR220144_02-JPG-l-1600-0.jpg";i:5;s:88:"https://images.chestertons.co.uk/assets/r/chips/che/TBR/22/TBR220144_19-JPG-l-1600-0.jpg";i:6;s:88:"https://images.chestertons.co.uk/assets/r/chips/che/TBR/22/TBR220144_17-JPG-l-1600-0.jpg";i:7;s:88:"https://images.chestertons.co.uk/assets/r/chips/che/TBR/22/TBR220144_15-JPG-l-1600-0.jpg";i:8;s:88:"https://images.chestertons.co.uk/assets/r/chips/che/TBR/22/TBR220144_06-JPG-l-1600-0.jpg";i:9;s:88:"https://images.chestertons.co.uk/assets/r/chips/che/TBR/22/TBR220144_11-JPG-l-1600-0.jpg";i:10;s:88:"https://images.chestertons.co.uk/assets/r/chips/che/TBR/22/TBR220144_14-JPG-l-1600-0.jpg";i:11;s:88:"https://images.chestertons.co.uk/assets/r/chips/che/TBR/22/TBR220144_05-JPG-l-1600-0.jpg";i:12;s:88:"https://images.chestertons.co.uk/assets/r/chips/che/TBR/22/TBR220144_07-JPG-l-1600-0.jpg";i:13;s:88:"https://images.chestertons.co.uk/assets/r/chips/che/TBR/22/TBR220144_18-JPG-l-1600-0.jpg";i:14;s:88:"https://images.chestertons.co.uk/assets/r/chips/che/TBR/22/TBR220144_26-PNG-l-1600-0.jpg";i:15;s:88:"https://images.chestertons.co.uk/assets/r/chips/che/TBR/22/TBR220144_27-JPG-p-1600-0.jpg";} |
| _thumbnail_id | 314955 |
| ffd_featured_image | https://images.chestertons.co.uk/assets/r/chips/che/TBR/22/TBR220144_22-JPG-l-1600-0.jpg |
| agents | a:1:{i:0;s:6:"313252";} |
| _wp_old_date | 2023-02-13 |
| ffd_record_is_deleted | |
| _wp_old_slug | 2-bedroom-flat-apartment-in-belvedere-road |
| featured_images | 314955 |
| primary_media_0_image | 314955 |
| _primary_media_0_image | field_5f988067abcc4 |
| primary_media_0_video | |
| _primary_media_0_video | field_5f98807dabcc5 |
| primary_media_1_image | 314954 |
| _primary_media_1_image | field_5f988067abcc4 |
| primary_media_1_video | |
| _primary_media_1_video | field_5f98807dabcc5 |
| primary_media_2_image | 314956 |
| _primary_media_2_image | field_5f988067abcc4 |
| primary_media_2_video | |
| _primary_media_2_video | field_5f98807dabcc5 |
| primary_media | 3 |
| _primary_media | field_5f98805cabcc3 |
| secondary_media_0_image | 314955 |
| _secondary_media_0_image | field_5f988119a39fd |
| secondary_media_0_video | |
| _secondary_media_0_video | field_5f988119a39fe |
| secondary_media_1_image | 314954 |
| _secondary_media_1_image | field_5f988119a39fd |
| secondary_media_1_video | |
| _secondary_media_1_video | field_5f988119a39fe |
| secondary_media_2_image | 314956 |
| _secondary_media_2_image | field_5f988119a39fd |
| secondary_media_2_video | |
| _secondary_media_2_video | field_5f988119a39fe |
| secondary_media_3_image | 314957 |
| _secondary_media_3_image | field_5f988119a39fd |
| secondary_media_3_video | |
| _secondary_media_3_video | field_5f988119a39fe |
| secondary_media_4_image | 314958 |
| _secondary_media_4_image | field_5f988119a39fd |
| secondary_media_4_video | |
| _secondary_media_4_video | field_5f988119a39fe |
| secondary_media_5_image | 314959 |
| _secondary_media_5_image | field_5f988119a39fd |
| secondary_media_5_video | |
| _secondary_media_5_video | field_5f988119a39fe |
| secondary_media_6_image | 314960 |
| _secondary_media_6_image | field_5f988119a39fd |
| secondary_media_6_video | |
| _secondary_media_6_video | field_5f988119a39fe |
| secondary_media_7_image | 314961 |
| _secondary_media_7_image | field_5f988119a39fd |
| secondary_media_7_video | |
| _secondary_media_7_video | field_5f988119a39fe |
| secondary_media_8_image | 314962 |
| _secondary_media_8_image | field_5f988119a39fd |
| secondary_media_8_video | |
| _secondary_media_8_video | field_5f988119a39fe |
| secondary_media_9_image | 314963 |
| _secondary_media_9_image | field_5f988119a39fd |
| secondary_media_9_video | |
| _secondary_media_9_video | field_5f988119a39fe |
| secondary_media_10_image | 314964 |
| _secondary_media_10_image | field_5f988119a39fd |
| secondary_media_10_video | |
| _secondary_media_10_video | field_5f988119a39fe |
| secondary_media_11_image | 314965 |
| _secondary_media_11_image | field_5f988119a39fd |
| secondary_media_11_video | |
| _secondary_media_11_video | field_5f988119a39fe |
| secondary_media_12_image | 314966 |
| _secondary_media_12_image | field_5f988119a39fd |
| secondary_media_12_video | |
| _secondary_media_12_video | field_5f988119a39fe |
| secondary_media_13_image | 314967 |
| _secondary_media_13_image | field_5f988119a39fd |
| secondary_media_13_video | |
| _secondary_media_13_video | field_5f988119a39fe |
| secondary_media_14_image | 314968 |
| _secondary_media_14_image | field_5f988119a39fd |
| secondary_media_14_video | |
| _secondary_media_14_video | field_5f988119a39fe |
| secondary_media_15_image | 314969 |
| _secondary_media_15_image | field_5f988119a39fd |
| secondary_media_15_video | |
| _secondary_media_15_video | field_5f988119a39fe |
| secondary_media | 16 |
| _secondary_media | field_5f988119a39fc |
2 bedroom Flat/Apartment in The South Bank, London
GBP 2,300,000
(US $2,435,762)
Belvedere Road, Borough, SE1
Greater London, England, United Kingdom
Status: Under Contract
Remarkable two-bedroom, river facing apartment at Belvedere Gardens, a prestigious building of outstanding architectural merit. This luxury apartment offers 1,450 square feet, two bedrooms, generous living areas and a balcony with iconic views of the London Eye. The classical proportions of the rooms and the floor to ceiling windows accentuate the unquestionable character and rarity of the apartments. The property also benefits from a bespoke marble-topped kitchen with high quality integrated Miele appliances and the three luxurious bathrooms are finished with polished stone and high specification fittings. Other features include underfloor heating, air-cooling system, cutting-edge smart home technology plus contemporary and timeless interiors. Luxury facilities include a 24-hour concierge and a hotel style reception. These exceptional apartments and penthouses set new standards of riverside living, with stunning views over the Jubilee Gardens and across the River Thames to Westminster and the City of London. This truly spectacular property is located on the second floor of the Belvedere Gardens development and has its own private custom designed health centre and spa in addition to an exclusive residents' lounge, entertainment area and terrace. The address is in the heart of London's vibrant Southbank area, one of London's best-connected locations, just a few minutes' walk from Waterloo National and Underground Stations.
Properties You Might Also Like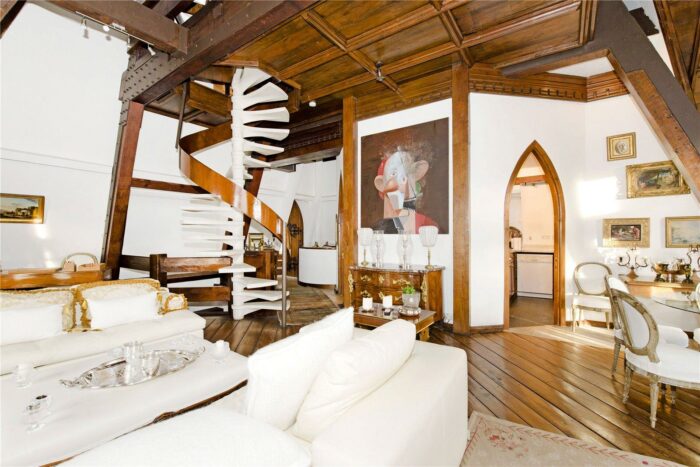 GBP 4,500,000
(US $4,765,621)
Greater London, England, United Kingdom
2 bedroom Flat/Apartment in Covent Garden
GBP 2,450,000
(US $2,594,616)
Greater London, England, United Kingdom
2 bedroom Flat/Apartment in Bankside
This unique 2 Bedroom home with 3 Bathrooms is a prime example of the luxury real estate available in Greater London, England. You can visit our England search pages for more luxury real estate choices in Greater London.