| | |
| --- | --- |
| ffd_listing_title | 2 bedroom apartment in Queens Gate |
| ffd_unique_id | |
| ffd_mls_id | |
| ffd_salesforce_id | a0E6g00000A48AlEAJ |
| ffd_address_pb | Stanhope Gardens, Queens Gate, SW7 |
| address | Stanhope Gardens, Queens Gate, SW7 |
| baths | 2 |
| beds | 2 |
| ffd_city_pb | Greater London |
| ffd_colistingagent_pb | |
| ffd_colistingagentemail_pb | |
| ffd_colistingagentmlsid | |
| ffd_colistingagentname | |
| ffd_colistingofficemlsid | |
| ffd_colistingofficename_pb | |
| ffd_country_pb | United Kingdom |
| ffd_createddate | 2023-04-01T00:34:16.000+0000 |
| about | An immaculate and spacious, 1699sqft, two bedroom two bathroom, first and second floor flat on Stanhope Gardens, SW7. Highlights include: First floor reception/dining room with 3.69m ceiling height. Private front balcony Separate well appointed kitchen Main bedroom on separate floor with dressing room and en suite bathroom. Second double bedroom with en suite. Communal garden access (STC) Situated between Gloucester Road and South Kensington the flat is ideally situated for all the excellent shops, restaurants and transport facilities of the area. Gloucester Road is the nearest underground station. For the motorist, there is easy access to the A4/M4 towards Heathrow and the West. |
| ffd_displayaddress | |
| floor | |
| ffd_halfbathrooms_pb | 0 |
| ffd_hide_address_on_site | |
| ffd_key_words | Greater London;United Kingdom;City;Greater London, England;Kensington and Chelsea England;City Greater London;City Kensington and Chelsea;Kensington and Chelsea;Queens Gate Greater London;UK |
| ffd_lastmodifieddate | 2023-05-28T00:34:34.000+0000 |
| lat | 51.493478 |
| ffd_listofficemlsid | |
| ffd_listofficename | |
| ffd_listingagent_pb | 0036g00002ALrQ7AAL |
| ffd_listing_agent_email | |
| ffd_listing_agent_firstname | |
| ffd_listing_agent_lastname | |
| ffd_listingagentmlsid | |
| ffd_listingagentname | |
| ffd_listing_agent_website | https://www.chestertons.co.uk/en-gb/property-to-buy/gb/queens+gate/che230009 |
| price | 4284555 |
| ffd_listingtype | Sale |
| location | Greater London, England, United Kingdom |
| lng | -0.179752 |
| sq_feet | 0 |
| ffd_non_member_paid | |
| ffd_other_currency_amount | 3450000 |
| ffd_other_currency_type | GBP |
| ffd_ownerid | 0056g000006m3d5AAA |
| ffd_pool_pb | |
| ffd_price_upon_request | |
| building_type | Apartment |
| ffd_id | a0E6g00000A48AlEAJ |
| ffd_totalarea_pb | 1699 |
| ffd_solddate | |
| ffd_soldprice | |
| ffd_state_pb | England |
| ffd_status | Active |
| ffd_threequarterbathrooms | 0 |
| ffd_unit_of_measure | Square Feet |
| ffd_brokerage_id | 0016g00002KskJEAAZ |
| year_built | 0 |
| ffd_postalcode_pb | SW7 5QX |
| pba__WebsiteId__c | 340331 |
| pba__Listing_Website__c | https://www.forbesglobalproperties.com/listings/2-bedroom-apartment-in-queens-gate-2 |
| Site_Post_Id__c | 340331 |
| ffd_media | a:18:{i:0;s:88:"https://images.chestertons.co.uk/assets/r/chips/che/CHE/23/CHE230009_04-JPG-l-1600-0.jpg";i:1;s:88:"https://images.chestertons.co.uk/assets/r/chips/che/CHE/23/CHE230009_06-JPG-l-1600-0.jpg";i:2;s:88:"https://images.chestertons.co.uk/assets/r/chips/che/CHE/23/CHE230009_05-JPG-l-1600-0.jpg";i:3;s:88:"https://images.chestertons.co.uk/assets/r/chips/che/CHE/23/CHE230009_14-JPG-l-1600-0.jpg";i:4;s:88:"https://images.chestertons.co.uk/assets/r/chips/che/CHE/23/CHE230009_17-JPG-l-1600-0.jpg";i:5;s:88:"https://images.chestertons.co.uk/assets/r/chips/che/CHE/23/CHE230009_08-JPG-l-1600-0.jpg";i:6;s:88:"https://images.chestertons.co.uk/assets/r/chips/che/CHE/23/CHE230009_07-JPG-l-1600-0.jpg";i:7;s:88:"https://images.chestertons.co.uk/assets/r/chips/che/CHE/23/CHE230009_09-JPG-l-1600-0.jpg";i:8;s:88:"https://images.chestertons.co.uk/assets/r/chips/che/CHE/23/CHE230009_10-JPG-l-1600-0.jpg";i:9;s:88:"https://images.chestertons.co.uk/assets/r/chips/che/CHE/23/CHE230009_11-JPG-l-1600-0.jpg";i:10;s:88:"https://images.chestertons.co.uk/assets/r/chips/che/CHE/23/CHE230009_12-JPG-l-1600-0.jpg";i:11;s:88:"https://images.chestertons.co.uk/assets/r/chips/che/CHE/23/CHE230009_13-JPG-l-1600-0.jpg";i:12;s:88:"https://images.chestertons.co.uk/assets/r/chips/che/CHE/23/CHE230009_16-JPG-l-1600-0.jpg";i:13;s:88:"https://images.chestertons.co.uk/assets/r/chips/che/CHE/23/CHE230009_15-JPG-l-1600-0.jpg";i:14;s:88:"https://images.chestertons.co.uk/assets/r/chips/che/CHE/23/CHE230009_19-JPG-l-1600-0.jpg";i:15;s:88:"https://images.chestertons.co.uk/assets/r/chips/che/CHE/23/CHE230009_03-JPG-l-1600-0.jpg";i:16;s:88:"https://images.chestertons.co.uk/assets/r/chips/che/CHE/23/CHE230009_02-JPG-l-1600-0.jpg";i:17;s:88:"https://images.chestertons.co.uk/assets/r/chips/che/CHE/23/CHE230009_01-PNG-l-1600-0.jpg";} |
| _thumbnail_id | 340332 |
| ffd_featured_image | https://images.chestertons.co.uk/assets/r/chips/che/CHE/23/CHE230009_04-JPG-l-1600-0.jpg |
| agents | a:2:{i:0;s:6:"313250";i:1;N;} |
| _wp_old_date | 2023-04-03 |
| ffd_record_is_deleted | |
| _wp_old_slug | 2-bedroom-flat-apartment-in-queens-gate-2 |
| featured_images | 340332 |
| listing_images | a:18:{i:0;s:6:"340332";i:1;s:6:"340337";i:2;s:6:"340336";i:3;s:6:"340335";i:4;s:6:"340333";i:5;s:6:"340334";i:6;s:6:"340338";i:7;s:6:"340339";i:8;s:6:"340340";i:9;s:6:"340341";i:10;s:6:"340342";i:11;s:6:"340343";i:12;s:6:"340344";i:13;s:6:"340345";i:14;s:6:"340346";i:15;s:6:"340347";i:16;s:6:"340348";i:17;s:6:"340349";} |
| api_external_id | CHE230009 |
| post_member_id | 312441 |
| post_agent_id | 313250 |
| _sbi_oembed_done_checking | 1 |
| postal_code | SW7 5QX |
| ffd_unitnumber | Flat 2 |
| county | Kensington and Chelsea |
| neighborhood | Queens Gate |
| listed_date | 2023-03-31 00:00:00.000000 |
| ffd_api_external_id | CHE230009 |
| post_coagent_id | |
| _listing_images | field_642ee01c5d170 |
2 bedroom apartment in Queens Gate
GBP 3,450,000
(US $4,284,555)
Stanhope Gardens, Queens Gate, SW7
Greater London, England, SW7 5QX, United Kingdom
Status: Active
An immaculate and spacious, 1699sqft, two bedroom two bathroom, first and second floor flat on Stanhope Gardens, SW7.
Highlights include:
First floor reception/dining room with 3.69m ceiling height.
Private front balcony
Separate well appointed kitchen
Main bedroom on separate floor with dressing room and en suite bathroom.
Second double bedroom with en suite.
Communal garden access (STC)
Situated between Gloucester Road and South Kensington the flat is ideally situated for all the excellent shops, restaurants and transport facilities of the area. Gloucester Road is the nearest underground station. For the motorist, there is easy access to the A4/M4 towards Heathrow and the West.
Properties You Might Also Like
GBP 1,995,000
(US $2,477,591)
Greater London, England, United Kingdom
3 bedroom apartment in Queens Gate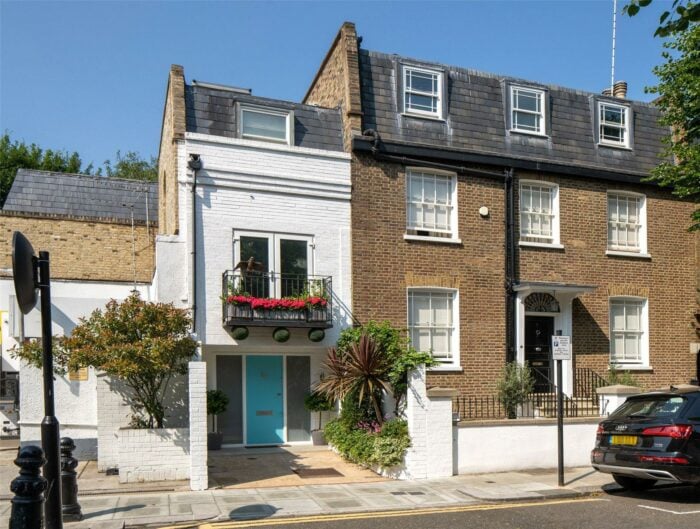 GBP 3,000,000
(US $3,725,700)
Greater London, England, United Kingdom
3 bedroom house in Queens Gate
This unique 2 Bedroom home with 2 Bathrooms is a prime example of the luxury real estate available in Greater London, England. You can visit our England search pages for more luxury real estate choices in Greater London.