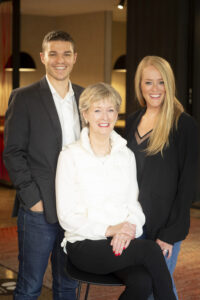 Slifer Smith & Frampton Real Estate
phorankates@slifer.net

Pam Horan-Kates was born and raised in Simsbury, Connecticut, schooled in New York, and has been a resident of the Vail Valley since 1976. Her path to Vail started when she met John Kates, the Director of Marketing for then Vail Associates, in New York City. He invited her to visit the Vail Valley, and on her second visit, Pam realized that this was where she belonged. Her third visit involved a U Haul truck and shortly thereafter, a marriage to John, the new Vice President of Marketing for Vail Associates. Pam was the Executive Director of the Colorado Ski Museum/Ski Hall of Fame for 8 years before taking a break to care for Conor and Brooke. Pam joined Slifer & Company on Bridge Street in Vail in 1987, and moved to the Cordillera Sales Center in 1993. She has specialized in Beaver Creek, Vail and Cordillera since then, and is consistently among the top producers of Slifer Smith & Frampton Real Estate.
Pam lives with her husband John in Lake Creek, where John has retired as the founder and Chairman of the Board of the Vail Leadership Institute. He is the author of several books and articles on leadership, as well as on the history of the Vail Valley. Son Conor is employed in the field of computer technology with SalesForce.com in San Francisco, CA, and daughter Brooke joined Pam in her real estate practice in 2015.
All Properties
Stunning Mountain Residence With Exceptional Gore Range Views
Contact
Pam Horan-Kates
LIC.# EA.001244545
Office
Slifer Smith & Frampton Real Estate