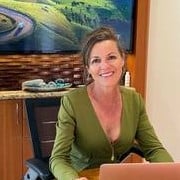 Hawaii Life
[email protected]
(808) 385-0882
Greetings! I'm so happy you've found me here at Hawai'i Life!
I hail from London, England via Honolulu. During my working career in London, I held the role of Marketing Executive for P&O Cruises, where I ran The P.O.S.H. Club, (Port Out Starboard Home), the loyalty program for 26,000 cruise passengers. I saw much of the world in my position in travel that spanned 12 years, and made passenger care and attention to detail my forte, which I have effectively woven into my relationship-based business in real estate.
I am a "Golden Keys Concierge" Realtor!
Upon my move to Maui in 1997, I enjoyed close to a 10-year career with Four Seasons Maui as a member of Les Clefs d'Or at the Lobby Concierge, and latterly I was one of 8 Club Concierge dedicated to the Club floor level guests, the top of my profession in the hospitality industry. A testimonial by a former Four Season's guest stated "If you have the privilege of having Katy assist in your Maui experience, you will be spoiled forever."
With a wealth of experience in personal service and island knowledge, I parlayed that to Maui real estate in 2007 as a full time Realtor in Wailea. I invite you to experience my expertise as a Hawai'i Life Broker with a reputation of deliberate and focused client care. I offer innate organizational skills as an expert manager with my noteworthy timeliness in all communications. Strategically partnering with a team of hand-picked experts in my sphere to personally ensure your real estate goals are accomplished, I live a daily commitment to my personal business maxim, "At your service, with Aloha!"
Having seen much of the world, I honestly believe that Maui is the doorstep to heaven and we who have the opportunity to live here, or own a piece of property which allows us to call Maui home, are truly blessed. To quote Voltaire, "Paradise is where I am!" and I am eager to share the blessings of Maui with you as your personal islandwide real estate Concierge and statewide resource.
I am dedicated to service and it comes with Aloha!
Visit Katy Foxwell's Site
Contact
Katy Foxwell
LIC.# RB-9592
Office