| | |
| --- | --- |
| ffd_objectsync_id | 0036g000021VjAjAAK |
| ffd_salesforce_id | 0036g000021VjAjAAK |
| ffd_id | 0036g000021VjAjAAK |
| phone | (732) 768-6471 |
| is_member | 1 |
| dre | 10401234057 |
| keywords | Elegran New York NYC Manhattan Brooklyn Queens Lower East Side LES Upper West Side UWS Tribeca Soho Gramercy Park Noho Nolita Flatiron Lincoln Square Brooklyn Heights NY USA |
| website | https://www.elegran.com/agents/david-ghoneim |
| languages | |
| email | david@elegran.com |
| facebook | |
| twitter | |
| instagram | |
| linkedin | |
| title_at_agency | |
| ffd_ownerid | 0056g000006ISFgAAO |
| agency | Elegran |
| small_profile_picture | 242291 |
| _thumbnail_id | 242291 |
| brokerage_id | 0016g00002Gg7OUAAZ |
| _wp_old_date | 2022-09-15 |
| agent_title | |
| mobilephone | |
| agent_location | |
| agent_city | |
| agent_state | |
| agent_country | |
Agent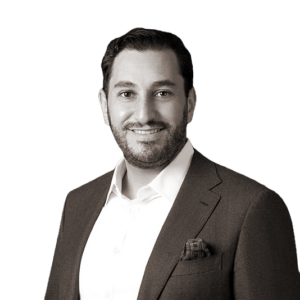 Elegran
david@elegran.com
(732) 768-6471
A native of the NYC metro area, David Ghoneim was born in New York and raised in New Jersey. Growing up in a multicultural family, he developed a passion for culture, politics, and history. Thanks to a long and varied career that ranged from marketing and sales, to business development and import/export, David gained a multitude of experiences that help him to connect with people of different backgrounds and goals.
David joined the Elegran team with a Bachelor of Science in International Business from the University of Maryland. After receiving his degree, he moved to Florence, Italy, where he began a small business. Fluent in Italian and conversational in French, David is now studying Arabic to help establish new relationships and expand his network of international clients; to be sure, he offers all his clients a wide breadth of industry knowledge and an extensive network of resources to guide them through New York's real estate market.
He uses his skills and experience to bridge both old and new relationships, and works diligently to continue to learn about New York City's evolving real estate market. Ambitious and driven, he appreciates the value of building honest, long-lasting relationships in both his personal and professional life as a real estate salesperson.
Visit David Ghoneim's Site
All Properties
New York, New York, United States
Stunning and Convenient in Desirable New York City
Contact
David Ghoneim
LIC.# 10401234057
Office